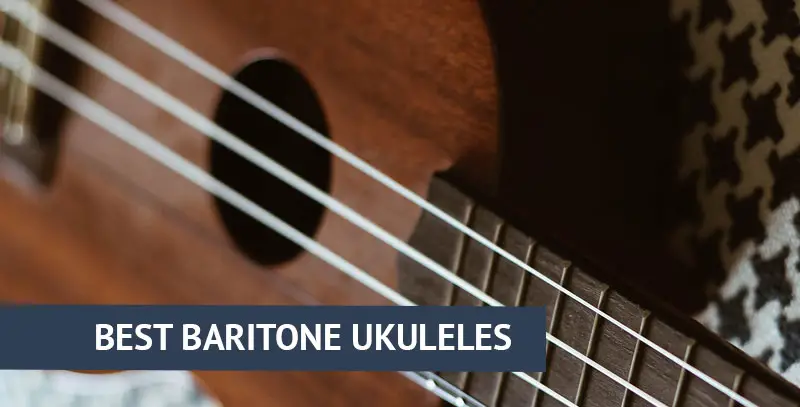 Baritone ukuleles were first sold in the US in the 1950s. The origins are disputed. Ukulele players from the time Arthur Godfrey and Herk Favilla both claim to have developed the baritone ukulele. It is possible that both created their own versions.
A baritone ukulele makes sense for players with bigger hands. They give more space for fretting and also produce a tone similar to a classical guitar.
I love the sound of this style of ukulele. I've researched all of the best baritone ukuleles to help you to make the right decision. The best baritone uke overall for beginners is the Makala Baritone Mahogany. A solid, reliable instrument for new players at a reasonable price.
But one ukulele can't work for everyone, as we all have our own needs, budget, and preferences. Everyone is catered for in our list.
Best Overall Baritone Ukulele for Beginners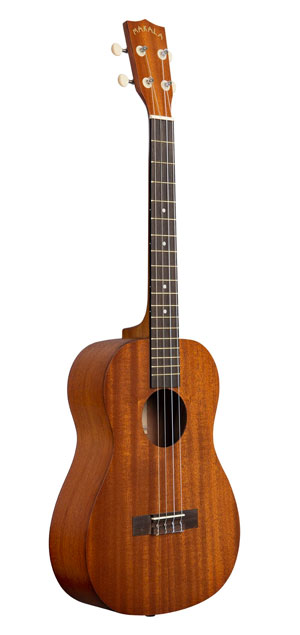 Kala is a huge brand in the world of ukuleles. They have something for every budget, and the Makala Baritone uke is for users who don't want to spend too much.
The Kala MK-B projects very well. It is made ofa large mahogany body, walnut fingerboard, and bridge. It also has a mahogany neck and industry-standard Aquila Super Nylgut strings. Playing this instrument doesn't feel like you are playing a cheap beginner model.
Another reason why the Kala Makala Baritone is so good for beginners is the Kala app. You get access to learning material, a tuner, tutorials for songs, and easy-to-follow lessons. And it works on iOS or Android.
The nut and saddle don't feel as professional as some other ukes, but other than that it is hard to fault.
Pros:
Exceptional value.
Includes access to Kala learning materials.
Made from quality mahogany.
Cons:
This ukulele doesn't come with a carry bag.
Nut and saddle feel a little plasticky.
Best Baritone Ukulele Under $500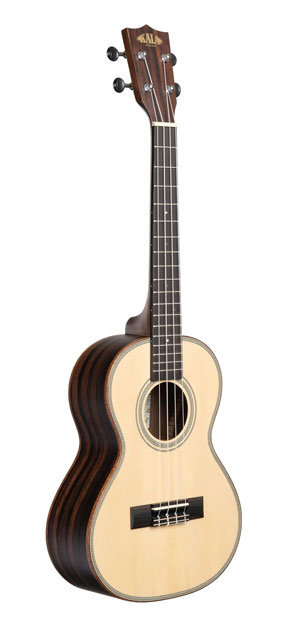 If you have a higher budget, it's another Kala Baritone uke that we would recommend. The Kala SSEBY is good for professionals and makes gigging and band practice incredibly easy. It has an electric pickup so you can plug it into a PA system and amplify your uke to a volume that can fill the room.
The solid spruce top gives this a clear tone with a fantastic dynamic range. The full tone has the richness of a quality guitar, with more bass presence than most ukuleles. It has bright high frequencies, too, so you don't need to worry about losing any of the character of your tone.
The Venetian cutaway adds to the playability. You can reach higher frets and play guitar-style solos easily, without straining. 
Pros:
Excellent Fishman pickup system included for amplification.
Beautiful tone provided by spruce and ebony tonewoods.
EQ lets you control the frequencies when amplified.
Cons:
Doesn't include any accessories.
Best Baritone Ukulele Under $200
Oscar Schmidt is a brand with loads of tradition. They are over 100 years old and make some excellent ukuleles in all sizes, including the OU53S.
For the price tag (under $200) you will not find better tonewoods. It has a spruce top along with quality rosewood back and sides. The fingerboard and bridge are made out of rosewood too. This is a comfortable and easily playable instrument. 
The OU53S comes with Aquila strings, which add to the bright tone. It's also a brilliant-looking ukulele, and the rich rosewood looks as good as it sounds.
Pros:
Excellent tonewood for under $200.
Oscar Schmidt craftsmanship.
Has a very comfortable fretboard made of rosewood.
Cons:
Doesn't come with a case or accessories. 
The action is a little high near the neck for some peoples' preferences.
Best Budget Baritone Ukulele
If you are looking for a decent baritone uke at the lowest cost then the lotmusic model fits the bill.
While it isn't likely to become the number one choice of professionals any time soon, it's really impressive for the money. While some soprano or tenor ukuleles are very cheap, it's rare to find a great baritone model for this kind of price.
This has reliable 18:1 ratio tuning gears, and stays in tune more stably than similar options. 
The ukulele also comes with loads of accessories, including a gig bag, capo, and even some learning materials.
The included D'addario nylon strings are the main downside. They don't have a high-quality, professional sound, so if you want to get the most out of this ukulele, we recommend replacing the strings. This only costs a few dollars.
Pros:
Incredible value for money.
This comes with loads of accessories including a gig bag.
​High-quality mahogany top and sides.
Cons:
The included strings aren't of great quality.
Best Baritone Ukulele for Advanced Players
Yet another Kala baritone ukulele. This model is made out of solid acacia wood. Acacia is similar to koa, the native Hawaiian wood that so many ukuleles are made out of. This provides a bright and traditional tone that professional and advanced ukulele players love.
This is a beautiful instrument. You can see the quality of the tonewood from just one glance. The tone lives up to expectation, and the KA-SA-B sounds great for acoustic performances.
To complement the acacia body there is also a walnut fingerboard and mahogany neck. Picking, strumming, and fingering along the fretboard are all silky smooth.
Pros:
Stunning and professional tone.
Smooth playability.
A beautiful, natural acacia finish.
Cons:
Doesn't come with a gig bag.
Best Baritone Ukulele for Home Recording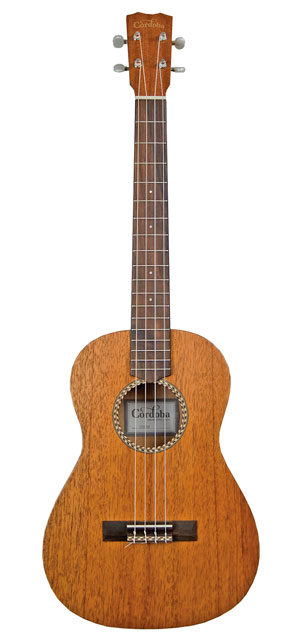 Cordoba's range of ukuleles is always reliable. The Cordoba 20BM is a great model for recording at home. It gives a well-rounded tone that translates brilliantly to recordings. 
Like a lot of mid-range ukuleles, it has a mahogany top, back, and sides. This solid wood gives the Cordoba 20BM a rich and loud projection that is great for recordings.
It's an attractive instrument, too. It has a natural wood pattern rosette and the satin finish completes the package
It comes with Aquila Nylgut baritone uke strings, tuned to D-G-B-E (like most baritone ukes). These are professional-standard so you don't need to replace them to make industry-standard recordings at home.
Pros:
Excellent tone across the full frequency range.
Looks fantastic, with a satin finish.
The solid top and mahogany tonewood give great projection. 
Cons:
Frets stick out from the fretboard a little. This isn't as comfortable for every player.
Best Acoustic-Electric Baritone Ukulele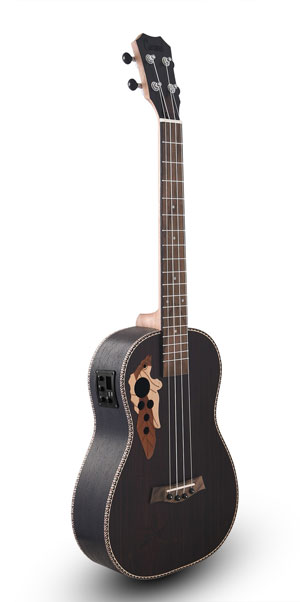 The Caramel CB500 may not come from the best known brand, but Caramel Ukulele is starting to make a name for itself. Ukuleles like the CB500 show how great the Caramel brand is. It is versatile and has an inbuilt preamp. You can use it to plug into the PA system at practice, amplify your uke at home or plug straight into an audio interface to record.
A 3 band EQ is inbuilt so that you can modify and perfect your tone, and it has an easy LCD display tuner. 
It comes with Aquila strings, as well as having loads of accessories including a gig bag, jack cable, and even a cleaning cloth.
Another benefit of the Caramel is the adjustable action. It has an adjustable truss rod and includes a wrench. If you know what you are doing, you can change the action to suit your playing style.
The CB500 is available at a surprisingly affordable price when you consider all of these features and accessories. The only downside is the fact that it is not very loud when played without amplification. But it's still loud enough for practice sessions alone.
Pros:
3 band EQ and tuner inbuilt.
Comes with a gig bag, lead, and a cleaning cloth.
Quality rosewood bridge, fingerboard, and body.
Surprising quality for the price range.
Cons:
The soundhole doesn't project loudly when played without amplification.
The Best Looking Baritone Ukulele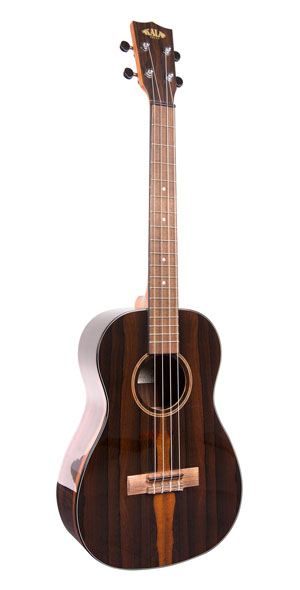 A lot of ukuleles look quite the same and there is nothing wrong with that. But if you want something that has a unique look, the Ziricote baritone uke is ideal.
Ziricote wood has a dark and rich look, and the grain of this wood looks brilliant. It also sounds fantastic for a baritone ukulele. The Nubone faux bone nut and saddle give an extra level of quality to the fixtures. Though it doesn't get it looks from fancy patterns or inlays, the Ziricote has a high-gloss finish which really accentuates the stunning wood.
It also offers a mahogany neck and comfortable, easily-playable walnut fingerboard.
The deep tone of this ukulele gives it an acoustic guitar-style sound. It doesn't have the strongest treble, but if you want a thick, meaty low-end tone the Kala Ziricote is superb.
Pros:
Unique look with a high-gloss finish.
Exceptional bass response.
The walnut fingerboard is responsive and plays brilliantly.
Cons:
Not the best for treble and playing higher notes.
No accessories included.
Frequently Asked Questions
Should You Choose a Baritone Ukulele?
A baritone ukulele has different tuning to the other main sizes (more on this below). If you want to be able to switch between different sizes, and play a concert ukulele some days, but a baritone uke others, this makes it more difficult.
If you are a guitarist, the similarities in tuning can actually make it much easier to transition to a baritone uke from your guitar.
If you have big hands, the baritone ukulele can be another good option. It makes it more playable as you have more room on the fretboard.
If you want the traditional "sound of Hawaii" then a soprano or concert ukulele will give you a brighter, "plinkier" tone. 
Does a Baritone Ukulele Sound Like a Guitar?
The baritone ukulele doesn't sound quite like a guitar. It has two less strings, for a start. However, it sounds a lot more like a guitar than the other sizes of ukulele. This is largely down to the tuning being similar.
Another reason why baritone ukuleles sound more like a guitar is the larger size. They often have a 30-inch body, and a 19 inch scale length. 
The bigger size normally leads to a louder projection, especially if the instrument has a spruce top.
Which Tonewood to Choose for a Baritone Ukulele?
All tonewoods have different properties. The tonewood has a big influence on the sound. A quality, solid wood will project better than a laminate, which is made out of multiple layers of thin wood. Most baritone ukulele players want a clear and loud instrument that sounds great when playing chords, so a solid wood is better. Low and mid frequencies are important for baritone ukes.
Spruce and mahogany are fantastic examples of baritone ukulele tonewoods.
Many baritone ukuleles are made out of mahogany. This gives a traditional sound, with plenty of brightness, but it also projects really well. Mahogany is great for live use and for recording due to the versatile, well-rounded sound. 
Acacia is also popular for smaller ukuleles, along with koa. Koa is a traditional tonewood from Hawaii, but Acacia is cheaper and almost identical. If you want to replicate the sound of a traditionally smaller size like Soprano, Koa can provide the bright sound. Baritone ukuleles tend to cover deeper frequencies due to the larger size, but Koa or Acacia can give more of a high-end "shine" to the sound.
Most baritone ukuleles are made out of woods that sound more like an acoustic guitar, like mahogany and rosewood.
Both rosewood fretboards and rosewood bodies are popular, and this tonewood gives a long sustain and rich tone.
How to Tune a Baritone Ukulele
Baritone ukuleles are tuned D-G-B-E. This is the same as the four lowest strings of the guitar. Most soprano, concert and tenor ukuleles are tuned G-C-E-A using "re-entrant" tuning.
When you are using a tuner, make sure the notes you use are D3-G3-B3-E4. Many ukulele tuners will have this preset, so you can easily switch to D-G-B-E tuning, start tuning the lowest string, and wait for the tuner to pick up the tone.
Once it recognizes the string you are trying to tune, you should use the tuning pegs to tighten or loosen the string, while plucking it intermittently. There will usually be a visual chart to show you when you hit the right pitch.
Conclusion
Baritone ukuleles have a rich tone, and they are fun and simple instruments to play, especially if you have bigger hands or some existing guitar knowledge.
Each of the models on this list has a lot to like. Choose the ideal model for your needs (and price range) and get practicing for soundtracking your next beach trip.
Anna teaches piano and guitar and also has extensive experience recording music. She's well read in music psychology and love to share the benefits of learning to play music.