Are you looking for a free yet reliable ukulele tuner app? Wondering if an app can actually do a reliable job of helping you tune your instrument?
In short, yes! Ukulele tuning apps have improved a lot in recent years. 
As phone hardware has improved, inbuilt microphones have got better, and tuning apps have become more accurate. Whether you are using iOS or Android, free apps are a convenient alternative to clip-on tuners (even if they are not as good).
Our current top five free ukulele tuner apps are listed below:
1. GuitarTuna
The Best Overall Tuner
Get GuitarTune on: Apple Store or Play Store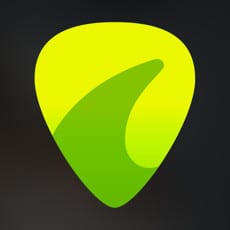 This app is a guitar tuner that also caters to other string instruments, including the uke. If you just want to tune your instrument in standard tuning, this is one of the best ukulele tuners.
It is free to download. If you want additional tunings or full access to included lessons, these are optional paid upgrades.
The interface is very simple, with a notification noise telling you when the string reaches the correct pitch. It automatically detects which string you are tuning, even in noisy environments. If your kids are being noisy in the house, or your washing machine is on, but you need a tune-up, just find a relatively quiet spot and this app will still work as expected.
A metronome is included to help you learning ukulele in time. If you want to, you can pay for chord charts and learning games within the app and accelerate your learning.
Pros:
Reliable tuning even in noisy environments.
Includes a metronome.
Works with iPhone, iOS, and Android devices.
Cons:
Some advanced features and different tuning options require a paid version of this app.
2. Tunefor Ukulele Tuner and Chords
Best Ukulele Tuner for Apple Devices
Get Tunefor Ukulele Tuner on: Apple Store
If you are using an iPhone or iPad to tune your ukulele, this is a fantastic free option. It does a great job of recognizing frequencies. The app reliably picks up the correct pitch for each string so you don't have to worry about whether you are tuning the wrong string.
Unlike some other apps, the Tunefor ukulele app is designed specifically for ukulele players. It is not bolted on to a guitar app. As a result, there are some specific tutorials and learning activities for uke players.
Another plus for this app is the fact it allows alternative tunings so you can experiment with different ways of playing your uke. You can use C tuning, D tuning, and G tuning, and they aren't hidden behind a paywall like some of the other tuner apps. This can open up new songs and styles as your ukulele abilities increase.
Pros:
Allows you to use different tunings.
Automatic or manual tuning modes.
Simple layout.
Cons:
Only works on Apple devices.
Some features such as games and tutorials are behind a paywall.
3. Fender Tune – Guitar Tuner
Best for Beginners
Get Fender Tune on: Apple Store or Play Store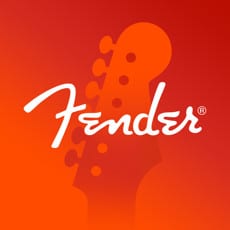 Fender is a powerhouse guitar brand. They also make ukuleles. Almost 100 years of incredible prestige creating instruments means Fender products tend to be reliably great, and this tuner is no different.
The app allows you to quickly tune a ukulele with automatic tuning modes. These pick up the pitch of each string and give you a visual and audio indication when you are in tune.
Multiple tuning modes are included. 26 set instrument tunings including the most popular ukulele tunings. Professional musicians as well as beginners will find the app accommodates the tunings they need.
Incredible accuracy is also on offer here. Its advanced algorithm tunes multiple stringed instruments perfectly every time.
Pros:
Access a huge number of different ukulele tunings for free.
Reliable and accurate.
Some chords, scales, and a metronome included for free.
Simple interface for beginners.
Works on Android or Apple devices.
Cons:
Some additional learning modes and tutorials are behind a paywall.
4. Ukulele Tuner and Chords
Free Tuner With Chord Library
Get Ukulele Tuner and Chords on: Apple Store
If you want a simple app without guitar modes convoluting your tuning, The "Ukulele Tuner and Chords" app is a great choice.
It still has everything you will need as a ukulele player. Five of the most common Soprano, Tenor, and Concert Ukulele tunings are preset in the app. 
As well as the free, responsive tuner, there is a ukulele chord library. This does have a cost attached, but it is affordable at $1.99. You can look up chords and even use this app as a practice aid.
The interface is simple, but not as sophisticated as, say, the Fender Tune app. But the benefit of this is low memory requirements on your device. On top of this, the app is so easy to navigate, even if you aren't very tech-savvy.
To use the automatic tuner, just pluck your string and adjust the tuning until a green light flashes.
Pros:
Simple and easy to use.
Low memory space requirements.
Includes a chord library.
Cons:
No tutorials or learning materials included.
Chord library does incur an extra cost.
Ads are shown on the app.
No iPhone or iPad app.
5. Ukulele Tuner Pocket
​Learn to Tune By Ear
Get Ukulele Tuner Pocket on: Play Store
This is another free and simple ukulele tuner. We've included it as it does offer something a little different; it helps to teach people to tune by ear. More advanced musicians tend to be able to do at least basic tuning by ear. Once you learn to do this, you don't have to worry so much about carrying a tuner with your uke.
This app has precise tuning and includes seven popular ukulele tunings for all uke sizes, from baritone ukes to soprano.
It doesn't take much space on your device, but it does have ads to keep the app free. 
A premium version removes these ads and also includes automatic string detection if you don't want to tune by ear.
Pros:
Teaches users how to tune by ear.
Easy to navigate.
Includes multiple tunings.
Cons:
Ads can be frustrating.
Automatic string detection is hidden behind a paywall.
No iOS version.
Conclusion
Whether you want something simple, like the "Ukulele Tuner Pocket" for Android, or you want more advanced learning features such as those in the "Fender Tune" app, there is something for everyone on this list.
Some tuner applications offer paid features. Luckily, all of the models we've reviewed allow you to tune your instrument totally free of charge. And some include free bonuses like chord libraries. We hope the list has been useful in helping you to find the right free tuner for your device.
Anna teaches piano and guitar and also has extensive experience recording music. She's well read in music psychology and love to share the benefits of learning to play music.