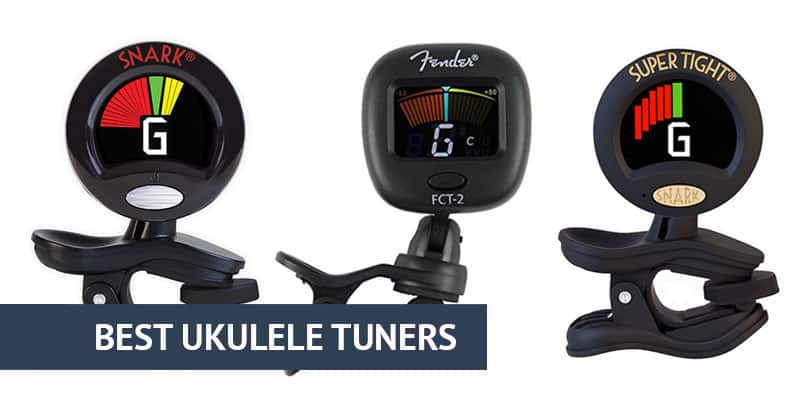 When you start out playing the ukulele, tuning can feel like one of the more intimidating elements. With a good quality tuner, it's an easy job. You can be a pro when it comes to ukulele tuning in a matter of minutes.
In my opinion, clip-on tuners are the best option. They free up your hands, so you can pluck the ukulele string and tweak the tuning pegs at the same time. You just need to keep an eye on the tuner. Tuners without clips mean you will probably be playing a balancing game on your knee. That's no fun.
In this guide, I show you the three best ukulele tuners I recently tested and recommend to my students.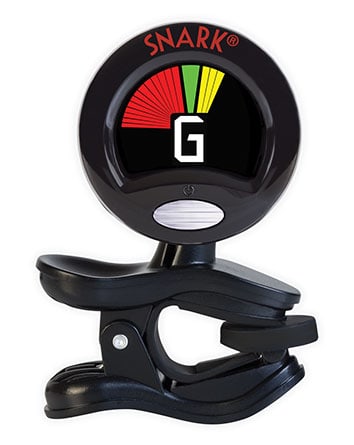 I love using Snark tuners. The SN6X is a great model for anyone who needs accurate tuning even in dark and noisy environments. The 360-degree swivel head lets you tune at any angle and still see the screen clearly. The HD, full-color display shows whether you're sharp, flat, or bang on. Even in the dark, Snark shines through.
I also love the fact that this has a tap tempo metronome feature to go with the chromatic tuner. This turns it from a tuner into a real practice tool and companion. 
One slight downside for multi-instrumentalists is the fact that this only tunes ukuleles. No tuning modes for guitars or other stringed instruments.
That said, this weakness is also a strength. The specific ukulele processing chip means quicker tuning for ukulele players.
This tuning chip, along with the bright display, shows it is made with the uke lover in mind, and grabs it the top spot on our list of best ukulele tuners.
You can normally trust Fender to come up with a nifty accessory. The FT-2 is a professional level tuner, that is ideal for gigging musicians. It's a guitar tuner primarily, but it also has the ability to tune other stringed instruments including banjos, mandolins and ukes.
The clever dual-hinge design is great for tuning from different angles, as you can clip it to the front or the back of the headstock and swivel it around.
The vibration sensor is arguably the best selling point of this tuner. Even in a really busy and noisy environment, it does a good job of providing accurate tuning. The reliable A440 calibration tunes at pitches from B0 to B7. Because A440 tuning is the industry standard, it means you will be in tune with other musicians by default. This tunes to a frequency of 440 Hz at the A above middle C. The flexibility of tuning between B0 to B7 means that you can use different, unusual tunings if you want to.
I'd tell you how long the battery life is, but the fact that mine is still going after months of use means I can't tell you exactly. The CR2032 battery can be replaced when the tuner eventually dies.
The only reason it isn't number one on the list is that it doesn't have the bonus of a metronome. It's a solid second place, and if you play another string instrument it could be the ideal tuner for you.
Another smart tuner from Snark. The Snark ST-8 is great for both left and right-handed players as it can rotate 360 degrees. On top of that, the "stay put clip" sets it aside from other tuners. If you want to keep it in place while you practice, or just make sure it won't fall off during the process, it's as easy as just clipping where you want it.
Like other Snark tuners, this has a tap tempo metronome feature. The digital tuner has options when it comes to pitch calibration too. While it can handle the standard 440Hz, it has a range of 415-466Hz. This means you can use different tuning and pitches.
The clip has some force to it. This means that if your ukulele isn't that well made, you run the risk of it leaving a mark.
This tuner has a bright display and works perfectly as a tuner for guitar or ukulele, with the bonus of a metronome with the option to tap in the tempo. It's third place on our list, it's a great choice if you want a tight clamp that won't buzz or move around easily. .
Frequently Asked Questions
Clip-on Tuner vs. Tuner App
There's nothing wrong with using a tuner app if you're stuck, but everyone should have a tuner in their bag. 
An app tends to just use your device's microphone but a tuner will usually have a piezo transducer pickup to sense the pitch. The pickup does a much better job of sensing vibrations, so the tuner works more reliably.
On top of that, you aren't relying on your phone to have battery, or hoping your mom doesn't call while you're tuning.
How Do You Use a Clip On Tuner on a Ukulele?
Use the clip mechanism to place your clip-on tuner on the headstock of your ukulele. Ukes are pretty small, so you need to make sure your tuner will fit on the space between the tuning pegs.
If you are using a tuner that isn't specific to ukulele, look for a "U" setting. This usually means ukulele.
You can then tune to standard ukulele tuning, GCEA. As you hold your ukulele, the G string should be closest to you, with the A string furthest away. Tune the G first. 
Pluck the string and tweak the tuning peg to tighten or loosen the string. This will affect the pitch.
As you pluck, the gauge on the tuner will show you whether you are too flat or too sharp. The aim is to get the dial right in the middle.
Once you reach the middle, the tuner will probably flash or show you an indication you're in tune. On to the next string. Repeat this process for all four.
Chromatic Tuner vs Ukulele Mode Tuner
Chromatic tuners can tune to any note in standard chromatic tuning. This is how most western music works, with 12 notes in each octave. It's great to have this option because you can use different tunings or even different instruments.
However, you need to know the tuning you want. A uke-specific tuner will tune to GCEA by default. 
If you're stuck for what octave the strings should be at, use an online tuner. This can help you to get the perfect pitch rather than accidentally tune your uke too high (and risking to break a string) or too low.
Do Guitar Tuners Work for Ukuleles?
Many of the best ukulele tuners are also guitar tuners, or work on other acoustic instruments. As long as you use a ukulele setting, or know the notes you need to tune your strings to, you can use a guitar tuner such as the Snark SN6. This is just as reliable on a soprano ukulele as it is on a bass guitar.
Conclusion
Your tuner is a key piece of kit. A model like the Snark SN6 suits the majority of ukulele players, and does a great job even in loud spaces. If you want a more flexible model for other instruments, the Fender FT-2 Professional Clip on Tuner is a brilliant choice. 
All three of the best ukulele tuners on this list will be faithful companions, and the first accessory you should get to take full advantage of your ukulele..
Anna teaches piano and guitar and also has extensive experience recording music. She's well read in music psychology and love to share the benefits of learning to play music.