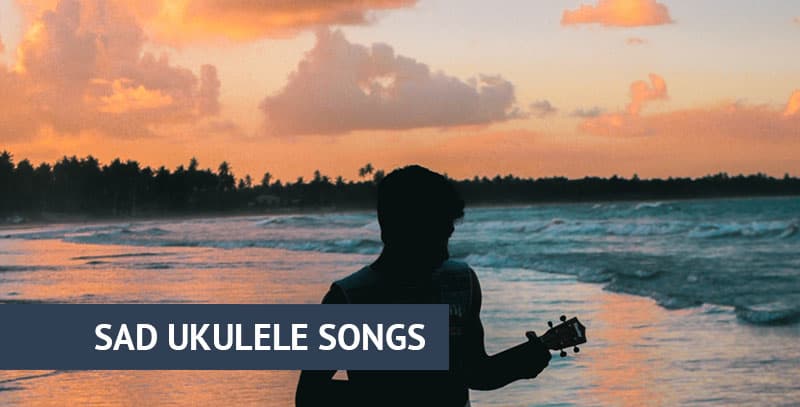 Okay, maybe people won't cry but they're still quite sad, even on a ukulele.
Some days, I get an urge to stir some emotion from my ukulele. Yesterday was one of those days so I searched online for sad ukulele songs. To my surprise, I couldn't find a good list.
Although often considered a happy instrument. There are plenty of sad songs that sound great on the ukulele. And I'm going to share my favorites. These are the songs that'll tug at the heartstrings.
So grab your ukulele (and a tuner) and let's dive into 26 Sad Ukulele Songs That Will Make People Cry.
The Most Common Chords
Some chord progressions are a prominent fixture in sad ukulele songs. For example, C, F, G major, and A minor. These are chords that every ukulele player needs to learn. Lock these down and there are a plethora of songs at your fingertips. 
Note the tuning of the ukulele. Standard tuning pitches the strings as G, C, E, A from the lowest to highest. The lowest string is the thickest string. This is a big confusion with newbies. 
Chord diagrams show how to shape chords. A marker on the fretboard shows which fret you should place your finger on. A number might be on the markers. This is to establish which finger to use.
Below is the number and the finger it relates to on chord diagrams:
Index finger
Middle finger
Ring finger
Pinky finger
Some popular chords are in the chord chart below. A C major is a great place to start if you're a beginner because it uses only one finger. You can reference this diagram throughout.
Common Strumming Patterns for Sad Songs
Strumming is all-important to ukulele playing. It's the rhythm that helps the chords flow. Sad ukulele songs will incorporate both downstrokes and upstrokes. But each song will vary depending on the tempo and feel.
Strumming patterns can be difficult when starting and information overload makes things worse. Thumb, finger, or pick!? Truth is, do what feels best for you.
Everyone is different, and it isn't a one size fits all approach. The end goal is fluid movement, so don't be rigid and loosen your fist. Try using different techniques to find which feels most natural.
To explain how to replicate a strumming pattern, you may come across strumming notation. Below is a key to help you understand what each symbol means:
d: down strum
u: up strum
(d): muted down strum
(u): muted up strum
D or U: When D or U is bold or capitalized. This is your cue to emphasize the strum.
x: chunking – this is a strumming technique that mutes the strings causing a percussive sound. Sometimes referred to as palm muting. capo easy ukulele
-: pause in the strumming pattern
It'll take practice. But hang on in there. Most of the sad ukulele tutorials will talk you through the pattern. What if the strumming pattern isn't explained? Then pay close attention to the player's right hand. Try to play along with the video. And most of all, feel the rhythm of sad ukulele songs!
26 Sad Ukulele Songs In order of Difficulty and Sadness
From the beginner to the ukulele expert. There's a sad song for everyone to play. Starting with the easiest. Here is the list I came up with… 
1. John Denver – Leaving On A Jet Plane (G, C, D)
Jumping on board a jet plane doesn't have to be sad. It can signal vacation time. John Denver didn't seem too enamored about boarding this flight. You can recreate his sorrow with just three chords. G major, C major, and D major are all you need.
Click here for chords and lyrics
2. Rolling Stones – You Can't Always Get What You Want (C, F, D)
Would any song list be complete without a Rolling Stones number? Sometimes, the realization you can't always get what you want is sad. But on a happier note, you may get what you need. And if you need a song with three chords—here we go. You can strum this number until your heart's content. 
Click here for chords and lyrics
3. Bob Dylan – All Along the Watchtower (Am, G, F)
This is a beginner's dream. The same three chords repeated over the same rhythm. Once you're locked into the groove, there's no looking back.
The biggest dilemma you'll encounter? Are you going to go for the Jimi Hendrix or Bob Dylan vocal approach to All Along the Watchtower? If it's the latter, don't light your ukulele on fire.
Click here for chords and lyrics
4. U2 – I Still Haven't Found What I'm Looking For (C, F, G)
Still not found what you're looking for? Give this one a shot. It comprises three of the most basic ukulele chords. As you bellow "I was cold as a stone", even a plucky and bright ukulele can't hide the sadness in these lyrics.
Click here for the chords and lyrics
5. Smokey Robinson – Tracks Of My Tears (G, C, D, Em)
Amazing, isn't it? Such an emotive and captivating song is only four chords! While the above video might not talk you through the chords. It's a splendid example of how to lock down the strumming pattern. With these chords most likely now in your skillset, you can't go wrong with a Motown number.
Click here for chords and lyrics
6. Lord Huron – The Night We Met (Am, F, C, G)
If you watched 13 Reasons Why this track is going to cause a lump in your throat. Beyond the success of this tune on TV, it's an elegant song. The chords used are beginner chords, so the chances of you executing this are good.
Click here for the chords and lyrics
7. Eddie Vedder – Society (D, A, G, Bm)
Eddie Vedder brings a bit of a different angle to our sad ukulele songs. If you're frustrated with the greed of society, this sad ditty is for you. Four chords and you can sing away your frustrations along with Eddie.
Click here for the chords and lyrics
8. Hank Williams – I'm So Lonesome I Could Cry (E, E7, A, B7)
Sometimes, some old-fashioned traditional country is all you need. I'm So Lonesome I Could Cry is as sad as the name suggests. But with only four chords it's achievable for a uke novice. If you're finding the B7 barre chord complex. Transpose the key of the song to A. This way you'll avoid the barre. Changing key from E to A, the new chords will be A, A7, D, and E7.
Click here for chords and lyrics
9. Leonard Cohen – Hallelujah (C, Am, F, G, Em)
If you want sad, Cohen is the master. This song is a gloomy ballad making use of "minor falls and major lifts". Hallelujah has spread its gloominess through many cover versions. From the legendary Jeff Buckley to X-Factor winner Alexandra Burke. Whatever the instrument and whoever the artist… this song cuts deep. So as you strum your ukulele singing of cold and broken Hallelujahs—expect to see a few tears after all.
Click here for chords and lyrics
10. Taylor Swift – Cardigan (Em, A, G, D, Bm)
Taylor Swift is a prodigious songwriter. Her songs stand up when stripped back on any acoustic instrument. One of her latest tracks, Cardigan, expresses a tender side of her writing. This is an excellent song to try out your first barre chord in a sequence.
Click here for the chords and lyrics
11. Johnny Cash – Hurt (Am, C, D, G, F)
We have to give credit to Trent Reznor for writing this downbeat number. But it was the Johnny Cash version that'd resonate with many. He died just seven months after filming the video. It's a song that established The Man In Black with a new generation of fans. The unmistakable intro works on the ukulele. It's those three simple chords that'll stop people in their tracks.
Click here for chords and lyrics
12. Zed & Maren Morris – The Middle (C, G, D, Em, Am)
Now for something with a modern twist. Maren Morris crushed this song. The quality of the song shines when played solo on the ukulele. With five chords in total and with no complex barres, this could be a candidate for the first full song to learn.

Click here for chords and lyrics
13. Red Hot Chili Peppers – Otherside (Am, F, C, G, Em)
The lyrics to Otherside are dark. The solemnness seems more clear when you strip it back to a ukulele. There's also an easy riff for you to combat. So, not only an easy chord structure—you can showcase your talents and play the intro riff.
Click here for chords and lyrics
14. A Great Big World Feat. Christina Aguilera – Say Something (Am, F, C, G, Em7)
Without a barre chord insight, this version of Say Something loops four simple chords. Even when the chord shifts, the structure only incorporates an Em7. This is a two-finger chord. So with only five chords in total, this is an easy reflective song to play.
Click here for chords and lyrics
15. Adele – Hello (Em, G, D, C, Bm)
When transposed, Hello features chords you are most likely familiar with. These chords won't work alongside the original. But this version will allow you to use some of the simpler chord shapes. All you need to do is add those famous Adele-like powerhouse vocals.
Click here for chords and lyrics
16. Sarah McLachlan – Angel (Dm7, F, C, G, Em)
McLachlan wrote Angel about the death of Jonathan Melvoin. This dedication is a touching tribute to the Smashing Pumpkins keyboardist who died in 1996. While the Dm7 might take some getting used to. Angel is a great song to have in your repertoire with a relatively easy fingerpicking.
Click here for chords and lyrics
17. Elvis Presley – Can't Help Falling In Love (C, G, Am, F, Dm, Em)
There's a vulnerability when falling in love. Elvis captured the spirit with the classic Can't Help Falling In Love. The Elvis version requires some complex chords. So making life easier, let's look at the Ingrid Michaelson version. It's easier to play along with. Best of all, you'll be familiar with the six chords in this version.
Click here for chords and lyrics
18. Tracy Chapman – Fast Car (F, C, Am, G, Fmaj7, Am7)
Fast Car explores themes of escapism. If Tracy Chapman's plea to fly away resonates with you, why not give it a go? The song, that is. The chords are straightforward. If you're unsure about the Fmaj7, replace it with the standard simpler F. We won't tell anyone.
Click here for chords and lyrics
19. Lady Gaga & Bradley Cooper – Shallow (Em, D, G, C, Am, Bm, A)
A Star Is Born is a sad film. As part of the soundtrack, Shallow embodies the blockbuster. E minor, D major, and G major will see you on the way. There's a barre chord in the bridge. But other than that, the crux of the song is open chords.
Click here for chords and lyrics
20. Israel Kamakawiwo – Somewhere Over The Rainbow (C, Em, F, C, Am, E7, Dm7, D)
Hawaiian singer-songwriter Israel Kamakawiwo has done wonders for the popularity of the ukulele. This version of the classic Somewhere Over the Rainbow put the uke in the spotlight. With some common chords, you can recreate his version and have a wistful look up at the sky and dream of what could be.
Click here for chords and lyrics
21. Vera Lynn – We'll Meet Again (C, E7, Am, A7, D7, G7, C7, F)
Don't know where don't know when. It's a forlorn outlook. But it's a beautiful song that'll resonate, whatever the age of your audience. It's seven chords in total. While it may seem like a lot, four of them use one finger only.
Click here for chords and lyrics
22. The Righteous Brothers – Unchained Melody (C, Am, F, G, Em, C7, Eb, Fm)
It's that A minor once again bringing tears to eyes. It's a song to bring back memories of a powerless spirit roaming the streets of New York. But Unchained Melody dates back as far as 1955 when Todd Duncan sang it in the film Unchained. Of course, the Righteous Brothers might be the most famous version. So all that's left—put your own spin on this classic.
Click here for chords and lyrics
23. Burt Bacharach – What The World Needs Now (Am, Dm, Bb, C, A, F, Eb, G, Em, Gm)
What does the world need now? It's love, of course. And you can remind your audience with this sentimental timeless number. There may be a few chords a beginner may find difficult. But once you've combatted the Bb barre chord, you're on your way to melting some hearts.
Click here for chords and lyrics
24. The Beatles – Yesterday (F, Em7, A, A7, Dm, C, Bb, C, G7, Gm, Gm6)
Are you growing in confidence? With Eleven chords, it'll take some memorizing and plenty of practice. It's a challenge but you'll reap the rewards if you master Yesterday. It's a party trick bound to impress. You've got this.
Click here for chords and lyrics
25. Eric Clapton – Tears In Heaven (F, C, Dm, Bb, A, Cm, D, Gm, C7, Ab, Eb, Fm, Bb7, Dbm)
Any song with the word tears in the title is going to make this list. The biggest issue a ukulele novice will have Tears in Heaven is the bridge. The G# (Ab), D# (Eb), Fm change is a tough nut to crack. So, if you're a beginner, try to lock down the intro and verse as a starting point.
Click here for chords and lyrics
26. Bob Marley – Three Little Birds (C, F, G)
Is it sad? No! In fact, it's one of the most positive songs on the planet. Why is it on the list of sad ukulele songs? Well, you've experienced some sad songs throughout this article. So, sometimes we all need reminding that every little thing is going to be alright.
Click here for chords and lyrics
Conclusion
So there we have it. My collection of sad ukulele songs.
There's a sad ukulele song for everyone. From the beginner with a few chords in their armory to the more advanced player. Descend the list as your skill level progresses.
Whether you're hoping to stir emotion in yourself or play to your fanbase. We hope you now have some ideas for blue songs to perform on your ukulele.
Enjoy!
Anna teaches piano and guitar and also has extensive experience recording music. She's well read in music psychology and love to share the benefits of learning to play music.