Are you looking for the best tenor ukulele options? Tenor ukuleles continue to grow in popularity. The larger tenor size makes them a great choice for people with bigger hands who might struggle with a soprano or even concert uke.
If this sounds like you, we've created a list of the top options, with choices at every price range. Features including the wood used, accessories, and of course the build quality and price of the ukuleles were considered. Whether you're a beginner or pro, there's a ukulele option for you below.
Best Tenor Ukulele Bundle (With Accessories)
It's virtually impossible to read a list of the best tenor ukulele models, or any other kind of ukulele, and not come across the Kala brand. As well as being a prolific manufacturer with loads of models, they offer a lot of quality. This is proved by this tenor uke, the KA-15T.
The Kala KA-15T comes with all you need to get started. It's a fantastic model for beginners and intermediate players. It saves you the hassle of having to buy accessories separately. It comes with a gig bag, clip-on tuner, a ukulele strap, and an extra set of Aquila strings. Some beginners don't even know what accessories they need, so it can be good to have the decision made for you.
The design features a mahogany body with a satin finish. For the price, it produces a great sound with quite a loud and clear projection. It isn't a top-level instrument, but it has more than enough to get you started.
Some of the factors that prevent this from being more than a mid-range uke are the finishings. The tuning pegs don't lock very well and could do with being a little bit more sturdy and well-built to help your ukulele stay in tune. The accessories are useful, but you might want to upgrade these in the future, too.
The KA range is also available in soprano and concert ukulele sizes.
Pros:
Great projection.
Comes with all you need to start playing.
Represents decent value.
Includes access to Kala's online lessons.
Cons:
Doesn't offer the most authentic, bright Hawaiian ukulele sound.
The finish and fittings could be better. The tuning pegs are an example of a low-quality finish.
Best Sounding Tenor Uke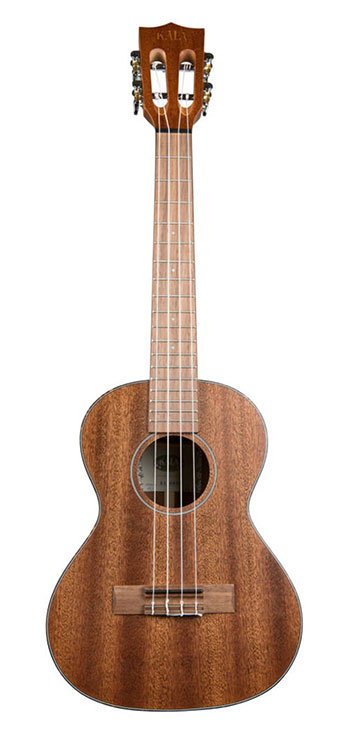 If you are looking for high-quality and a professional feel to your ukulele then Kala caters to this end of the market too.
The Kala SMHT ukulele is made out of mahogany, just like some of the cheaper Kala ukuleles, but the craftsmanship is noticeably better than the KA-15T or other, more affordable models.
This tenor ukulele has a Mahogany Neck and body, as well as a Laurel Fingerboard for smooth playability. It feels like you are playing a professional instrument when you pick up this ukulele.
The sound is up there with some of the competing, high-end ukulele manufacturers such as Martin and co. The GraphTech NuBone nut and saddle are the industry standard. These keep the strings in place, but also help with the transfer of sound. This uke also has a Tortoise Binding with a white border, which has a really professional feel to it.
The machine heads are open geared and designed to stay in tune better than some of the other Kala or cheaper tenor ukes.
If you have moved on from playing intermediate or beginner models and want something that can stand up to the rigors of touring or playing live in the studio, the Kala KA-SMHT Solid Mahogany Tenor Ukulele could be worth considering. It's my favorite option on the list when it comes to sound.
The main disadvantage would be the price. We're not saying it isn't good value, but the uke is aimed at a more professional market, with solid wood and a high-quality finish that comes with a bit of extra expense. If you're a beginner, you probably won't want to spend this much on your first uke.
Pros:
Beautiful finish and fittings including NuBone nut and saddle.
Great sound and good projection.
Impressive looking, with Tortoise binding.
Cons:
A bit more expensive than many of the other options on the list.
Doesn't come with a case as standard.
A Fantastic Acoustic-Electric Tenor Ukulele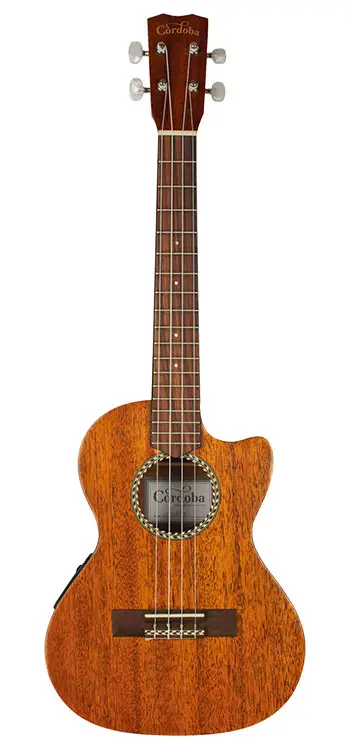 Cordoba is one of the other "big players" when it comes to manufacturing good-quality ukuleles. Their brand actually started as Cordoba Guitars, but they make brilliant instruments including baritone ukuleles, tenor models (as reviewed here), and even smaller soprano ukes.
The Cordoba 20TM is an acoustic-electric ukulele. This means that it has electronics included. A pickup and preamp help to create an electrical signal which you can amplify, record or hook up to a PA system.
A lot of ukulele players opt for a tenor uke with the electronics already included due to the fact it makes life a lot easier when it comes to live performance, busking, or studio use. In the case of the Cordoba model, there are no real sacrifices when it comes to quality, either.
Like so many of the other options on the list, this uses a solid mahogany wood as the basis of the design, but it also incorporates a Rosewood bridge and fingerboard as part of the design. It projects clearly, even when played without amplification.
It has a cutaway design which makes it easy to play higher up the frets, and to nail those solos. Industry-standard Aquila Nylgut Tenor strings are included, too. All of this comes at a relatively affordable, value price-tag. You will pay more than the all-acoustic budget beginner options, but the electrics included here don't break the bank.
Pros:
Electronics included making it easy to amplify and tune.
Rosewood bridge and fingerboard give great playability.
Good value for money, considering the electrics are included.
Great sound projection when played in acoustic mode.
Cons:
The sound is not very bright. Some ukulele players would prefer more high-end frequencies in the sound.
The bridge can make this uke prone to a bit of fret buzz.
Best Value Tenor Ukulele
Are you the sort of person who doesn't mind spending a little more, as long as you are getting good value for your money? The Cordoba 15TM is something of a sibling product to the 20TM. It's another great tenor ukulele from one of the top ukulele brands. This one doesn't have electronics inbuilt, but it is still a good choice for someone looking for an acoustic instrument.
The craftsmanship is perhaps the most surprising thing when you consider the price. The look and feel of this uke are superior to many options which cost more than the 15TM.
It is a handmade instrument, with a mahogany back and sides, as well as a mahogany top. The size and mahogany tonewood give a slight "Spanish guitar" vibe. It has an Abalone-style Rosette and beautiful fingerboard binding, which is something that you just don't see with many products at this price range.
The 15TM's solid mahogany top helps with loud projection and clarity. A solid wood body goes a long way when it comes to ensuring your uke can be heard. The tone of this model isn't as "bright" as some of the other ukuleles and doesn't compare to those which have a koa wood design or a smaller body, which produces a brighter tone. This is actually just a limitation of the tenor size, but the 15TM specifically struggles to produce a bright tonality.
Pros:
Easy to play high up the fretboard.
Very loud projection.
Build quality and finishing you wouldn't expect for the price tag.
Cons:
Doesn't come with accessories for beginners.
Not a very traditional or bright ukulele tone. It has a guitar vibe to it.
Great looking Tenor Ukulele
Some ukulele brands are known for producing more beautiful, detailed models of uke. Luna is certainly one of the best brands for creating a great tone and a great look all in one package.
The Luna brand is known for both guitars and ukuleles and they make some truly stunning designs with intricate details.
This tenor ukulele, called the "Tattoo Tenor" is designed with the look of a traditional Hawaiian tattoo. The patterns are geometric and the symbols all represent nature on the beautiful Pacific Islands. The markers along the fretboard are even stylized sharks' teeth.
A walnut fingerboard and bridge give a responsive design, great for playing whether you are a beginner or seasoned pro. The material used for the top, back and sides? Yet again, it's mahogany. There's a reason why this solid wood is used so regularly, though. It adds to the durability but also generates a rich and clear tone.
As well as looking great, the Luna Tattoo Tenor has a gig bag included, making storage and transit a breeze. The bag is good quality and while it doesn't have the protection of a hard case, it's great for casual players.
Aquila nylon strings are fitted when you buy it, and though they sound good, the tuning of this instrument can be awkward. All ukuleles go out of tune a lot when they are first played, but in spite of having open-gear tuners, the Luna seems more susceptible than most to detuning.
Pros:
Eye-catching tattoo design.
Fairly good value for money.
Boasts a big, resonant sound.
Includes industry-standard Aquila Nylgut Strings.
Comes with a free gig bag for protection and transport.
Cons:
Goes out of tune a little too easily.
Some ukulele players prefer to adjust the bridge of this model, as the strings feel too close to the frets.
Best Budget Tenor Ukulele Bundle
A cheap tenor ukulele bundle has a lot of allure, especially in certain scenarios. If you want to buy an instrument and you aren't certain you'll stick to the hobby, you won't want to spend a fortune. Even if you sacrifice a little bit of sound quality, it is a good idea to start with a beginner model. The Donner Tenor Ukulele offers exactly that.
In spite of being incredibly affordable, this does still have plenty of good features. You won't find yourself wanting to upgrade after a few weeks of playing.
It's clear that the Donner is aimed at beginners and learners when you look at the list of accessories. As well as the ukulele, it comes with four extra Aquila nylon strings, picks, a tuner, a padded gig bag, and a cleaning cloth. When you consider the price tag, this is an impressive set of added extras.
The build quality is not exactly flimsy, either. The Donner has excellent semi-open gear tuners, a rosewood fingerboard, and is made out of solid mahogany. The strings included are the same set that most other ukuleles include, even ones that cost a lot more than the Donner option.
This is a budget pick, and it does come with some restrictions. It doesn't have a professional handmade finish or any beautiful designs straight out of Hawaii. You won't see it played on stage at many festivals as it just falls short of the "professional" sound some ukulele players require. That said, it is a superb option at a very reasonable price.
Pros:
Comes with lots of accessories including a tuner and gig bag.
Free video lessons provided by Donner.
Exceptional value for money.
Cons:
Doesn't have the loudest projection or a particularly professional tone.
The mahogany body is not made out of the best quality wood.
Conclusion
As you can see from our list of the best tenor ukulele options, there are a lot of variables. You should consider the price, accessories, build quality, and sound quality, plus any other extra features you need such as electronics being inbuilt. Fortunately, there are a lot of models out there all competing to be the best. This means you will find competitive prices on the ukuleles featured on this page.
For a beginner, finding a high-quality tenor ukulele on a budget is easier than ever, and some have accessories included. For a pro, the high-end models offer a huge level of clarity, and the tenor options are usually responsive and easy to play due to their larger size. Any uke you end up choosing, we hope this guide has helped you, and that you'll have as much fun playing as we do!
Anna teaches piano and guitar and also has extensive experience recording music. She's well read in music psychology and love to share the benefits of learning to play music.