A concert ukulele provides a great middle-ground between the smaller, brighter soprano model and a larger model such as a tenor or baritone ukulele. It's tuned in the same way as a traditional soprano uke but it is a little bit larger, meaning a fuller, louder tone and easier to play for most people.
There is more choice than ever on the market, and it can be hard to navigate the best concert ukulele models. We're here to help.
Best Concert Ukulele Bundle
Kala is a prolific brand known for the quality of its instruments. The KA-15C is our first choice because of its great sound quality while being an option at a reasonable price point. Especially if you consider the accessories included.
This uke has a mahogany build with a satin finish. It projects a rich sound, partially due to the concert size, but also because of the mahogany material and Kala build quality. 
The accessories include a high-quality gig bag, Klipz tuner, a strap, and Aquila nylon strings. If you are a beginner looking for the best uke option, these are accessories you will have to buy at some point, so having them bundled with your concert ukulele is a big bonus.
Many people just starting out with ukulele playing go for the cheapest uke. There's nothing wrong with that, but spending a little more for a model like this, which can stay with you while you are an intermediate player is worth it.
Pros:
Comes with bundled accessories.
Excellent satin finish.
Mahogany top, back, and sides for good projection.
Fantastic Kala craftsmanship in every uke.
Cons:
The open tuning pegs on this aren't as reliable for tuning as some other geared tuners.
Best Acoustic Electric Ukulele
Luna ukuleles have a reputation for looking great and playing very nicely. The materials quality of this ukulele explains why the High Tide Koa model is so high up on our list despite its higher price. I think the abalone ring around the soundhole makes it look amazing.
It also has the benefit of inbuilt electrics, meaning you can simply plug into an amplifier or a PA system and amplify your playing. This is great for live performances or recording.
Luna's High-Tide range uses great woods. Koa is a very traditional Hawaiian wood used for soprano ukuleles and concert ukuleles for its bright tone. 
Although the koa body gives a brightness to the sound, this ukulele has a very full and well-rounded tone overall. The mahogany neck is comfortable, and the walnut fretboard is responsive and simple to play. The cutaway body design makes it easy to play at the higher frets for solos and riffs. These also sound great with the amplification system.
Though it doesn't come bundled with a full range of accessories, there is a gig bag included to protect the ukulele. We've reviewed the concert size but this is available as a tenor ukulele and a soprano ukulele, with the same design.
Pros:
Traditional Hawaiian koa gives a bright sound.
Comes with a padded gig bag.
This is a stunning instrument from the Luna range.
Comes with inbuilt electronics.
Cons:
The neck is quite slim, which might not be ideal for larger hands.
Best Sound Quality
The Cordoba 25C sound is incredible, largely due to the top, back, and sides all being made out of acacia wood. This wood is closely related to the koa used in smaller ukuleles but is more readily available. Koa forests are rare. The projection and excellent sound is helped by a beautiful satin finish and quality bone nut and saddle. If you're looking for a more high-end ukulele, this is the one.
The binding is rope-style, and there is a herringbone rosette, which gives it an authentic, old-fashioned look. 
Cordoba's range of concert ukuleles is very popular, and the 25C is seen by some as an upgraded version of the Cordoba 15C, one of the best-selling ukuleles at a more affordable price.
One criticism of this is the relatively sharp fret markers along the fingerboard. These aren't a huge issue for most people, but some beginners find this difficult for their fingers.
It is suitable for both beginners, but also intermediate and professional players who want that high-end tone.
The 25C range doesn't just have concert ukuleles. Soprano and tenor models are available too, for those who prefer a different size. They all have nylon strings included, which is pretty standard for the majority of ukulele models.
Pros:
Excellent build-quality.
Acacia wood provides a traditional yet loud tone.
Stunning rosette and binding.
Cons:
Playability could be slightly better as the frets can hurt your fingers.
​Best Pineapple Ukulele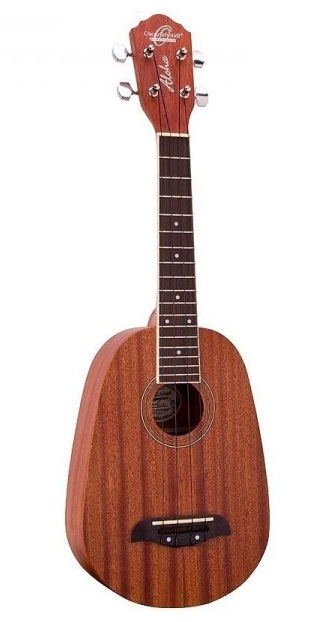 If you fancy a different look, the OU2P-A-U is a great choice. Oscar Schmidt is a very good brand, with a strong history when it comes to making smaller acoustic instruments. Their range includes acoustic guitars, classical guitars and, of course, ukuleles. 
This model is a simple model. It doesn't have too many frills or added extras, but it still has plenty going for it. The pineapple design was first introduced by Samuel Kaialiilii Kamaka of the Kamaka uke brand. It's often associated with Hawaiian ukuleles. The hard mahogany tonewood with a satin finish is reliable and has fantastic resonance and projection, and all of this is within a price range that certainly doesn't break the bank.
This model has the quality craftsmanship we have come to expect from the Oscar Schmidt brand. It's not one of their most "elite" products but it makes a good option for beginner and intermediate ukulele players. It's durable and gives a brighter tone than some competing ukuleles.
The strings are not the best. Experimenting with a few other options of nylon strings from Aquila can give you a better tone and playability.
Pros:
A durable, well-made instrument.
Reliable mahogany design with good projection.
Affordable model.
Traditional and quirky pineapple design.
Cons:
Doesn't include any added extras such as a gig bag.
​Replacement strings might sound better than those included.
Affordable Concert Ukulele Bundle
If you are looking for a ukulele that is suitable for beginners, has a decent build quality, and doesn't cost too much money, the Kmise Concert Ukulele Kit is a great choice. A lot of people opt for this ukulele if they are buying a uke for their kids, for example, and they aren't sure if they are going to stick to the habit. In spite of being really affordable, it comes with everything you need to get started.
The sealed tuning machine is designed to keep reliable tuning, and the ukulele has good playability due to sanded frets and a fairly high-quality walnut fingerboard. The C-shaped neck also adds to the comfort and playability. 
Like the Kala 15-C bundle, it is the added extras that make this ukulele such a great choice. If you need an entry-level uke there is every chance you are also looking for the accessories and learning materials for your ukulele.
This model includes Kmise's own free online lessons, as well as a booklet to get you started on some of the ukulele basics. It won't be the only learning material you ever need, but it is a great starting point.
The accessories are also a huge bonus, especially when you think about everything you get for the price tag. There is a strap, an extra set of strings, a gig bag and a tuner included. These may not be the most elite quality, but they are more than good enough for beginners just starting out on their ukulele journey.
Pros:
Decent build quality for the price.
Includes all the accessories to get you started.
Access to online lessons is included.
Cons:
Not an elite sounding instrument.
Can occasionally be prone to some fret buzz.
Best Concert Ukulele Design
There's nothing wrong with wanting a concert ukulele that looks cool. You can usually rely on Luna to make a stunning ukulele. This one has a real Hawaii vibe to it, with a beautiful look backed up by great sound.
The design itself is inspired by traditional Hawaiian tattoos and adornments. They're "monochromatic" in their look, with a black on brown design, made of strong geometric shapes and symbolism related to the beautiful island. Even the fret markers have a Hawaii-inspired look, with stylized shark tooth designs.
This model has a really great sound projection, too. The mahogany build is one of the reasons for this, as the durable wood is known for its projection and resonance. Many of the most affordable options go for the warm tone and projection of this tonewood. 
Though the Luna Tattoo design doesn't come with many accessories, a branded travel bag is included, which offers decent protection to the instrument. 
A word of warning with this ukulele is that it has a longer scale than many of the other concert ukuleles. Ukulele sizes can vary slightly, but this has a long design and more space in the frets. This can be either a positive or a negative depending on your own size and how you look at it. Smaller hands might struggle, but larger hands might find this very useful.
Pros:
Traditional Hawaiian-inspired design.
Great sound projection with a satin mahogany design.
Includes a great-quality gig bag.
Cons:
Can be prone to some fret buzz.
The longer scale of this instrument might not be ideal for smaller hands.
Best Travel Concert Ukulele
You might be confused by us including a carbon fiber ukulele review. Some ukuleles that have strayed away from traditional tonewood sound terrible. Somehow, the Enya concert ukulele sounds pretty good, in spite of being made to be totally waterproof and durable.
The benefits include the slimline design, which is great for putting in the back of your car and taking on your travels. This ukulele can take quite a beating before the sound or build is impacted. You can take it to pool parties or to the beach and not have to worry about it getting wet. 
To retain the sound of a ukulele, Enya created an advanced "tone material" which replicates the acoustic properties of wood. The tone is really surprising, as there is a warm tone with a hint of brightness in spite of steering away from the wood design we all know.
The body is just 2 inches deep. This adds to the portability of the ukulele, but impacts the projection somewhat. It's not the loudest model on the list. The soundhole is actually on the side of this uke, and this is great for listening to your own playing.
It has some accessories included, such as a capo and bag, but you do not get a tuner included. Arguably, a tuner is more important than a capo.
For a traditionalist, this ukulele probably won't be your go-to option. It's got a modern look to it, along with the modern materials. If you don't mind the modern look, and lightweight and portable are top of your checklist, this uke could be a great option.
Pros:
Available in lots of colors.
Extremely lightweight and portable.
Surprisingly bright tone.
Cons:
It can't be used with any sort of steel strings.
Not as good projection as a mahogany wood model.
No tuner included.
Cheap Option
It doesn't always make sense to spend a lot of money on a ukulele. If you are buying for a child and you don't know if the hobby will catch on, a cheap ukulele could be your solution.
The Strong Wind mahogany ukulele may not be an elite instrument. Don't expect to see it used by the professionals, but people who are just getting started might find this a good place to experiment and see if the ukulele is the instrument for them.
This is the cheapest option that we are happy to recommend, as the sound and build quality is surprising.
This has a mahogany body, like a lot of the more expensive models. It gives a warm sound to the ukulele and it projects well, too. The walnut fingerboard is also fairly comfortable and playable. 
The bridge is made with beginners in mind. You can change the strings easily to turn this into a left-handed ukulele or to upgrade with some better nylon strings. There is always a case of getting what you pay for. 
This ukulele is a budget option, but for the price, you will struggle to get better features or a more rounded ukulele tone.
​Pros:
Incredibly affordable.
Surprisingly bright tone and quality tonewood.
Cons:
Not an elite sound.
Some fret buzz is possible.
Detunes very easily.
You might want to upgrade the strings.
The Verdict
The Kala KA-15C is a recommended model for a huge proportion of people looking for a concert ukulele. It is a great value ukulele but it is also fantastic for accessories. Beginner and intermediate players will enjoy this ukulele.
Once you have decided on a ukulele size, in this case the concert size, you need to think about some other things:
Do you need accessories?
How much do you have to spend on your ukulele?
What sort of sound do you want?
Do you need lessons included with your instrument?
Do you need a portable model, suitable for taking to the beach or a band practice?
We hope you have found our list of ukulele reviews helpful. There is truly something for everyone, whether you need a ukulele on a budget or you are looking to buy something that can hold up live or in a recording studio.
Anna teaches piano and guitar and also has extensive experience recording music. She's well read in music psychology and love to share the benefits of learning to play music.