The ukulele is thought to have been invented in the 1880s in Hawaii. It is also thought that the first models were soprano ukuleles, the smallest of the mainstream sizes. 
Soprano ukuleles are not only the most portable, they have the traditional "plinky" sound a lot of people associate with ukuleles. The classic uke sound in many peoples' opinions.
As an experienced player, I've played many ukuleles in my time. In this guide, I've researched the best soprano ukuleles to help you make the right choice.
The best overall is the Martin S1 ukulele. This is a high-end instrument with a stunning tone and handmade design. 
However, the Martin isn't for everyone. This means you might need a different model from someone else. 
I've included reviews of the top soprano ukuleles, all with benefits for people with specific needs.
Best Soprano Ukulele for Advanced Players

If you want a professional sound and incredible build quality, you can't go wrong with Martin. The S1 is their flagship soprano uke. 
The S1 is made out of solid wood and constructed out of mahogany blocks. The handmade craftsmanship leads to a ukulele that gives impressive projection for such a small instrument. It's also built to last decades if treated right.
The tuning machines are made from Grover Nickel, and the saddle is made out of bone. It's clear that the best materials have been used. And it comes with a padded gig bag to protect the uke.
It's a little more expensive than most other models on the list, but the sound quality means it is great for studio recordings. This uke won't let you down.
Pros:
Handpicked mahogany.
Every Martin ukulele is handmade.
Great projection for a small ukulele.
Cons:
The most expensive model on the list.
Best Soprano Ukulele for Beginners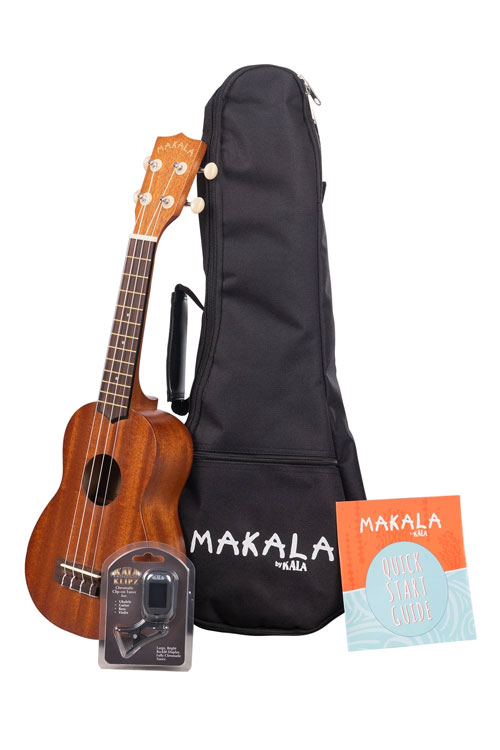 This beginner ukulele comes with the accessories you need to get started. A gig bag, tuner and even an instructional pamphlet on how to play your ukulele. You don't have to worry about buying added extras and you can focus on learning as soon as this uke arrives at your doorstep.
For an entry-level instrument, it is also impressively made. Kala is a big brand, and most of their ukuleles are impressive. This features a mahogany body and a mahogany top, with a good projection and tone for the small size.
It has a satin finish to protect the mahogany wood, and the playability is great for quite a cheap ukulele. No annoying scratching of your fingers while moving around the frets.
Pros:
Great value instrument.
High-quality mahogany and nylon strings included.
Includes accessories for beginners.
Cons:
Would benefit from a button and strap.
The sound isn't as traditional as some other soprano models.
Best Budget Soprano Ukulele (Under $100)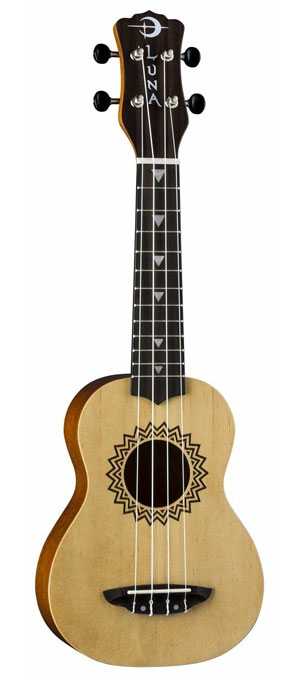 The Luna VSS is a mahogany soprano ukulele, and offers a great little instrument at an impressive price. In fact, it comes in well below $100 so it is good for anyone looking to save a bit of money.
It's still made of quality materials with a mahogany body and a spruce tonewood top that projects well. The fretboard is made of walnut, so it is hard-wearing as well as easily playable.
Luna is known for making ukes that look great, and the decorative shark-teeth inlays are great for those looking for a statement instrument.
The tuning pegs are open, designed to add sustain to your sound. However, they're one of the weaknesses of this ukulele, as they're not the best quality.
Pros:
Great ukulele for under $100.
Looks fantastic as well as playing well.
Made of quality mahogany and spruce.
Cons:
Tuning pegs are flimsy and this uke may fall out of tune.
Not an elite, traditional uke sound.
Best Ukulele Under $200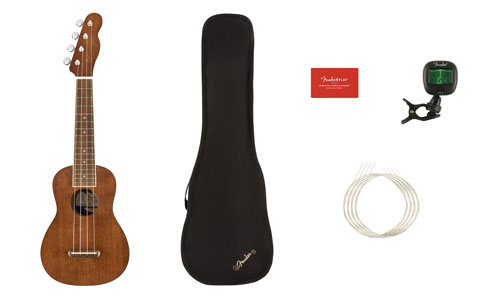 This is an unusual soprano ukulele. Made by Fender, it has a guitar-style design in the shape of a telecaster. This is great for those who love the Fender brand. There are plenty of guitar fans who move over to ukulele.
This is made out of solid mahogany and has the quality we expect from Fender. It's built to last.
It doesn't project as well as some other ukuleles. Soprano is the smallest of the ukulele sizes, and this means they're not very loud, so the Fender Seaside is pretty quiet. This isn't a problem for most of us. People who want better projection tend to go for a concert ukulele or bigger size.
It's not a full starter kit, but it comes with plenty of added extras. A gig bag, spare strings, and a tuner. This is a great model for learner ukulele players, as it has a 3-month subscription to Fender Play. This gives access to dozens of ukulele lessons.
Pros:
Quirky design with Telecaster headstock.
Includes accessories and spare strings.
3-month access to Fender Play learning platform.
Cons:
Projection is not great, even for a soprano ukulele.
Best Pineapple Soprano Ukulele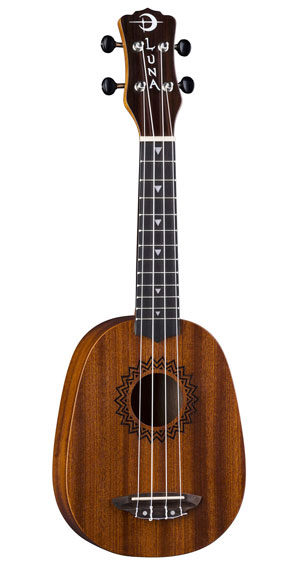 Another Luna ukulele, the vintage mahogany soprano uke is great for those who want a louder volume and mellow sound. The shape of a pineapple ukulele allows more air in the body, and this ukulele resonates beautifully with a quality sound.
The good quality materials and build mean an instrument to rely on for years to come. This small ukulele has a walnut fretboard and a mahogany body. The open tuners also give the sound a sustained property.
Of course, it's a Luna, so it looks great. Shark teeth inlays on the fretboard are eye-catching, and compliment the quality mahogany.
Pros:
Great projection from the pineapple-shaped body.
Eye-catching design.
Good value-for-money. 
Cons:
More of a mellow sound than most soprano ukes, not a traditional Hawaiian sound.
Not as easy to hold as some other designs.
Best Travel Ukulele
The Oscar Schmidt OUN ukulele is perfect for the player who is always on the go. The ukulele itself is made to be sturdy and durable. It has a basswood top and headstock veneer, and even plastic back and sides, these are water-resistant. Play on the beach or at pool parties and you don't have to worry.
This has a dolphin design, but you can buy many Oscar Schmidt models with other designs including doves. They're intricate and beautiful designs.
This is not just durable, it has a good sound too. It has Aquila strings, and the lack of traditional tonewoods don't impact the sound as much as you might assume.
The OUN is also a bundle, you get a hard case with it, which further protects the instrument. On top of that, there's a strap, tuner, instructional DVD, a trial of Fender Play online lessons, and a polishing cloth.
Pros:
Extremely hard-wearing with a plastic back and sides.
A better sound quality than most travel ukuleles.
Comes with quality Aquila nylon strings and many accessories including strap and tuner.
Cons:
Not an elite, professional sound due to the plastic construction.
Best Ukulele Under $500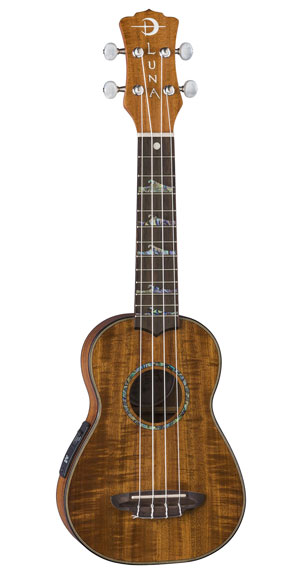 The Luna High Tide is a fantastic, professional ukulele, it has superb build quality and materials which lead to a uke that projects well and is made to last.
The body is made out of koa, which has a traditional sound as it is a Hawaiian hardwood. This is framed by an abalone ring. It has a mahogany neck as well as a walnut bridge and fretboard, all designed to give a strong sustain and clear, beautiful, and bright tone.
The clever design of abalone fret markers creates a "moonrise" effect. This adds to the beauty of the rich wood tones, protected by a satin finish.
This is an acoustic/electric model of ukulele. It has an onboard preamp so you can amplify your instrument easily, plugging into an amplifier and even crafting a unique tone with effects. The great tone is just as good in either electric or acoustic modes. 
This ukulele also has a cutaway design, like many guitars. This makes it easier to reach high frets and play solos.
Pros:
Can be used in electric or acoustic modes.
Comes with a padded case.
Solid Koa wood gives a traditional tone.
Cons:
May have sharp fret edges.
Best Intermediate Soprano Ukulele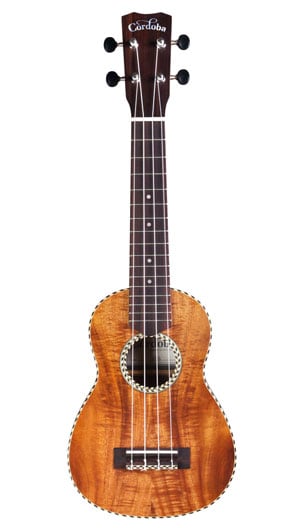 This Cordoba ukulele gives an upgrade from some of the entry-level sopranos on the market, and a bit more of a professional sound. It's good for those who have played for a while but feel they've outgrown their uke. If you're ready to move up to the middle price range, this uke represents value and quality. 
Cordoba has made this out of acacia wood, which is a similar tonewood to Hawaiian koa but easier to find. It is still high-quality with the bright tone that koa offers.
The 25S has a satin finish and an impressive herringbone rosette design. There's also rope-style binding which gives it a traditional look. It also includes Aquila strings, great for professionals and beginners alike. The 25 series also has other sizes including tenor and concert ukuleles. 
This ukulele isn't the best for beginners as it doesn't come with accessories or a case, or access to online lessons, you just get the instrument itself.
Pros:
Excellent acacia tonewood.
Bright tone and good projection.
Natural satin finish and rope binding which looks great.
Cons:
Frequently Asked Questions
Is a soprano ukulele too small?
Soprano ukuleles are 21 inches, with a scale length (distance between nut and bridge) of around 13 inches. 
The next size up is Concert, which is 23 inches. Tenor is 26 inches and a Baritone ukulele is a massive 30 inches, with a scale of 19 inches. If you have larger hands then a soprano is tough to play, and it is better to look to a concert or even a bigger size. 
It isn't impossible for someone with big hands to play a soprano ukulele. However, children and adults with small hands, often women, find soprano more comfortable.
Related: Ukulele Sizes: Find Out What Size Ukulele You Need
What is the difference between a soprano and concert ukulele?
There tends to be a difference of 2-3 inches in scale length and size between the soprano and concert. This means more space in the fretboard for easy playability. It also means the instrument is larger and can project better. You'll notice more mid-range sounds shining through on a concert. Soprano ukes have a bright sound.
Which tonewood to choose for a soprano ukulele?
Traditional koa wood is used for very few ukuleles, though it gives a bright sound. The stock of this wood are depleting. An alternative with a similar high-end sound is acacia. 
For a balanced tone and a fairly affordable design, mahogany, spruce, and cedar will all give good projection. Spruce is known for its crisp and resonant sound, while mahogany is a bit richer and deeper.
Lower quality ukuleles and beginner models tend to use laminate wood. This means a number of layers glued together. A high-end model will use solid wood, which has a fuller tone and far better resonance. It's much more expensive.
What is the soprano ukulele tuning?
Standard tuning is G-C-E-A. Ukes have an unusual tuning, and if you are switching from the guitar you can find it confusing. They use reentrant tuning. This means the lowest note is not the highest string, as is the case with almost all stringed instruments.
How to tune a soprano ukulele?
If you are using an electric soprano uke you might have a tuner inbuilt. If not, you can use a tuner (bought separately) or you can use an app such as GuitarTuna. These tuners show whether the string is flat or sharp. You can gently tighten if it is flat, or loosen if it is sharp. 
Conclusion
There are more ukes on the market than ever before, which means something for everyone. Different designs, tonewoods and sometimes electronics, give even more choice on which sort of ukulele you want to play.
Whether you are looking for a cheap model to get you started or the best-sounding ukulele out there, our list has all the best options in the soprano size. You can go ahead and find the right model for your playing style and ability, to take the next step on your ukulele journey.
Anna teaches piano and guitar and also has extensive experience recording music. She's well read in music psychology and love to share the benefits of learning to play music.