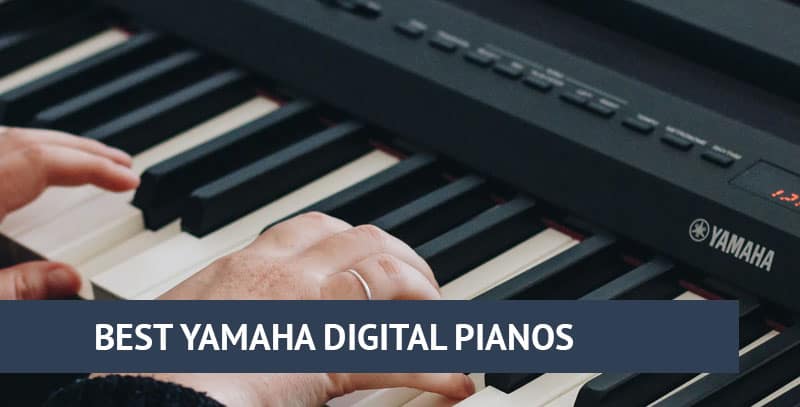 Yamaha is a brand with a long history of producing digital pianos. Since releasing their first digital stage piano (the GS1) back in 1980, numerous models followed in the '80s including Clavinova-style digital pianos. Yamaha has been an industry-leading option ever since.
With their large range of digital piano options, there's a model for every budget and skill level. Each providing a good replica of an acoustic piano. Most of them have weighted keys, with many offering a graded hammer action so it can feel like you are playing a grand piano with all of its dynamics and responsiveness.
Other important features these digital pianos offer include superb sound engines. These are modeled on the expensive Yamaha acoustic pianos, and professionally sampled to provide the sound of a real piano.
Modern Yamaha models also provide excellent connectivity, so you can use them with your laptop or other devices. MIDI-USB connections are very common. You'll find high-quality inbuilt speakers in most models, and the standard option to connect a sustain pedal.
This guide has been created to help you find the best Yamaha digital piano for your own needs. 
Best Overall Yamaha Digital Piano Under $1000

The Yamaha P-125 is popular among people looking for a good quality piano in a reasonable price range.
It is a lightweight and portable piano but still offers brilliant sound, so it is good for beginners and intermediate players.
Its GHS action replicates an acoustic piano feel, meaning that the low keys are heavier to the touch. The Pure CF Sound Engine has 4-level sampling which does a great job of replicating the 9′ CFIIIS concert grand piano that this is based on.
The String Resonance feature recreates the resonance inside the piano, mimicking how acoustic models generate sound.
There's a USB-MIDI connection, and it includes FC5 footswitch for sustain pedal control. The "Sound Boost" feature is also designed to help optimize the piano's sound when played in ensembles, by using EQ to boost certain frequencies.
It has a great polyphony of 192 notes and 24 voices. Meaning you can experiment with lots of different sounds and styles.
The only real weaknesses are that the speakers are pretty quiet, and the sustain pedal included could be a little better in terms of quality. For the money, though, this is  a fair trade-off.
Pros:
24 voices to choose between.
Accurate and faithful reproduction of the CFIIIS.
GHS keys.
Cons:
Speakers are not very powerful.
Best Yamaha Digital Piano For Beginners on a Budget
This model is one of the most affordable electric pianos in the range, but it still offers plenty of features that appeal to beginners. The product includes a sustain pedal, and has graded hammer action keys so that you can learn on a model that feels like a piano instead of a keyboard.
A mixture of modern and classic piano sounds is offered via the advanced wave memory technology sampling system (sometimes abbreviated to AWM). The sound is projected by decent but not spectacular 6W speakers.
It has a 64 note polyphony. This is more than enough for most beginners but more advanced players will find it a limitation if they wish to play complex classical pieces.
This model is also sold exclusive to Amazon, under the name "P71". They are identical in features, Amazon just wanted to offer an exclusive P-Series digital piano.
Pros:
Affordable.
Choice of high-quality sounds including modern and classic.
Includes sustain pedal.
Lightweight and portable.
Cons:
Only offers a 64 note polyphony.
Inbuilt speakers aren't very powerful.
Best Yamaha Digital Piano Under $2000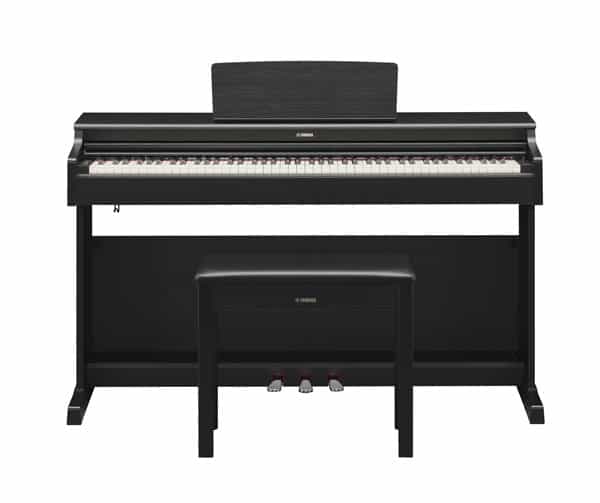 The Yamaha Arius YDP-164 is sold with a bench, forming a full console that looks great in a home or studio.
This model is built around the sounds of the Yamaha CFX concert grand piano and it sounds exceptional as a result. There are also nine other preset voices for you to experiment with.
192-note polyphony and Graded Hammer 3 (GH3) systems, along with synthetic ebony and ivory keys, give a realistic feel. Like you are playing the concert grand it is modeled on. 
Damper Resonance (DSP) mimics the acoustics of the inside of a grand piano for an even more immersive experience.
As well as USB connectivity, the Smart Pianist app gives you control of the piano from an iPad or other device, and can even analyze songs and show you the chords.
There are other impressive tech features including a 2-track recorder and four different reverb effects. And you can customize your sound.
Pros:
Includes half-damper and sustain pedals.
Connects with Smart Pianist app.
Realistic yet portable grand piano experience.
Cons:
Not a very portable piano option.
​Best Low Budget Yamaha Digital Piano
The Piaggero series offers some smaller digital pianos, rather than full-size 88-key models. The Piaggero NP-32 is portable and affordable, so good for beginners and for smaller concerts.
It makes use of Yamaha's Advanced Wave Memory Stereo Sampling for a great sound, and has Graded Soft Touch action which provides a pretty realistic feel.
The portability is aided by the fact you can use 6 AA batteries to power the piano, so this is even an option for busking. 
It's compatible with Yamaha's iOS app and though it doesn't include a pedal it is compatible with the FC3A half-damper control adapter.
The incredibly affordable price means this is a good upgrade from a Yamaha keyboard that doesn't break the bank. But it is not high-end in terms of build-quality and the speakers aren't amazing.
Pros:
Very portable space-saving 76-key design.
One of the cheapest digital pianos.
Includes a music rest.
Cons:
Not very powerful speakers.
Not full-size so doesn't have the full piano range.
Best Yamaha Digital Piano for Professional Pianists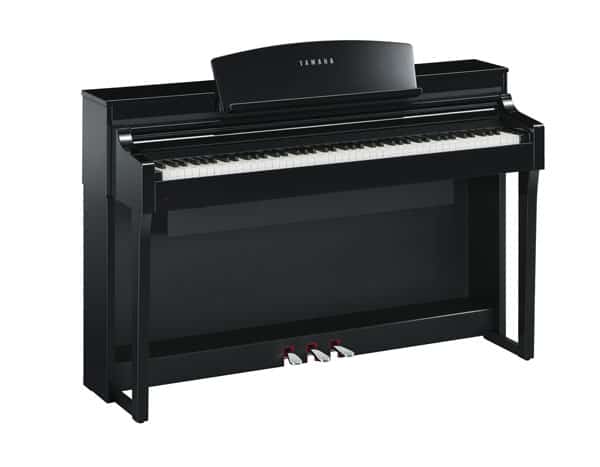 If you are a professional, or aspiring professional, you won't want to cut corners on your piano choice. Luckily, there isn't much the CSP-150 can't do. It mixes modern technology with traditional piano sounds. This model is the best Clavinova digital piano.
This is a great choice for people who want access to a large number of quality sounds. As well as the CFX and Bösendorfer grand piano samples, there are nearly 700 other voices to choose from.
It has a technology called Virtual Resonance Modeling (VRM) designed to mimic the vibrations of a piano. An Acoustic Optimizer technology also adjusts the sound to the environment, and String Resonance samples further add to the realism.
Onboard effects include 5 different EQ settings and 40 different reverbs. There is also pitch correction, a 16-track recorder, and a vocoder as this piano takes full advantage of modern music technology. Great choice for performing as well as use in a studio.
Pros:
Exceptional acoustic sound reproduction.
Loads of modern tech features including a 16-track recorder.
Onboard effects.
Cons:
Expensive option.
Not as portable as some of the other models.
Best Yamaha Digital Piano for Intermediates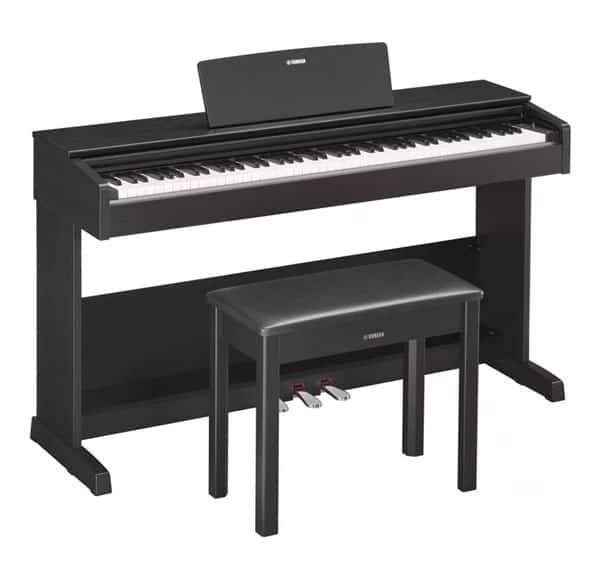 This model sits just above the best-selling beginner models. The Arius series is popular for intermediates. The speaker system isn't quite as professional and powerful as some other models like the Yamaha Clavinova CSP-170, but it still has a realistic feel, great for playing at home or in lessons.
This model has the GHS Hammer Standard system for a realistic responsive feel. It also has AWM sampling which does a decent job of replicating the grand piano.
Other features that are slightly more advanced than beginner pianos include "combine" which allows you to combine two sounds together and play them simultaneously.
Whereas many of the beginner models just have sustain pedals, this model has damper, sostenuto, and soft pedals (the three traditional piano pedals). 
This piano is not ideal for performing to big crowds unless you run it through a PA system. The speaker system is not the most powerful at 6W. But it's totally fine for home use or even in a studio. Just not in big venues.
Pros:
Includes all three pedals.
Console piano looks great in your home.
Good value for money.
Cons:
Not a very powerful speaker system.
Best Yamaha Stage Piano
A stage piano is great for performers. it can replicate the sound of a real piano, or even other musical instruments. This increases the range of voices you can use in a live environment.
The CP-88 is one of the most popular stage pianos out there. It's relatively lightweight at 41lbs and opens up a world of sonic possibilities.
This model replicates sound with an AWM2 tone generator. There's a triple-sensor NW-GH graded hammer system too.
The huge array of sounds includes 57 voices including strings, organs, and synths. There is also a full effects unit with delay, reverb and EQ, plus real-time controls for making changes on the fly.
All this is a lot to control, but there is a graphic LCD for keeping track. 
Pros:
A huge array of sounds and effects.
Portable and easy to take to gigs.
LCD screen included.
Cons:
Can be confusing to get used to all of the controls.
Quite expensive.
Best Yamaha Studio Piano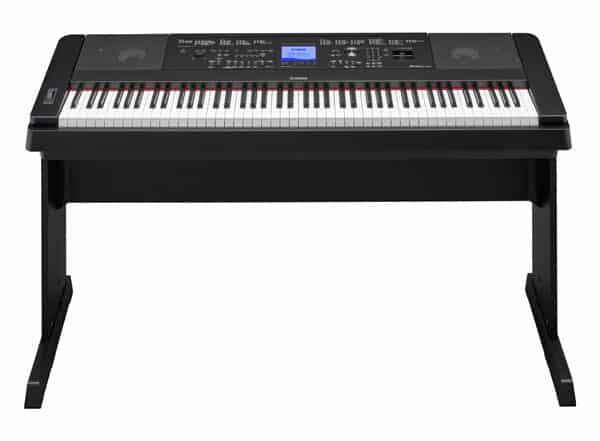 If you are looking for a digital piano that can offer hundreds of different sounds, and also provides recording and sequencing capabilities, the DGX-660 is an ideal choice. 
The piano sounds included are fantastic, using the Pure CF Sound Engine for an accurate reproduction of acoustic piano sounds, based on the CFIIIS grand piano. This has a GHS weighted action with a realistic feel.
As well as having great piano sounds, there are over 550 different voices that you can take advantage of when making recordings. There is a six-track song recorder, and even a microphone input to record your singing.
According to Yamaha, the music room effect "lets you choose from a variety of pianos and acoustic settings to create your very own personal piano environment."
This piano has the capability to stream via Wi-Fi to and from an iOS device. This does require an additional adapter which is not included in the package.
Pros:
Over 500 voices to use.
Includes 100 preset songs.
Inbuilt sequencer and recording function.
Cons:
Inbuilt speakers aren't very powerful.
Best Yamaha Digital Piano for Kids

The Piaggero NP-12 is a good choice for children who are looking to learn how to play the piano. It has a space-saving 61-key design. Some adults might find this restricting, but children probably won't be using the full range of an 88-key model anyway.
It's also very affordable, a great option if you aren't sure your child is going to stick with the hobby.
The AWM stereo sampling is the same model we see in some of Yamaha's more expensive models. 
This is great for portability due to the lightweight, but also because you can get five hours of use on 6 AA batteries. This makes it suitable for your child to take in the car or on trips, or play with friends.
It's compatible with Yamaha iOS applications, which are straightforward for children to use. There's a music rest which is good for sheet music but can also support an iPad.
While this is a very good option for kids and even some adults taking lessons, it isn't as professional or as well-made as some more expensive options. The P45 would be an alternative to get as an upgrade.
Pros:
Lightweight and portable.
AWM sampling.
USB to Host function.
Cons:
Not full-size.
Entry-level digital piano, not suitable for intermediate players.
Best Yamaha Console Piano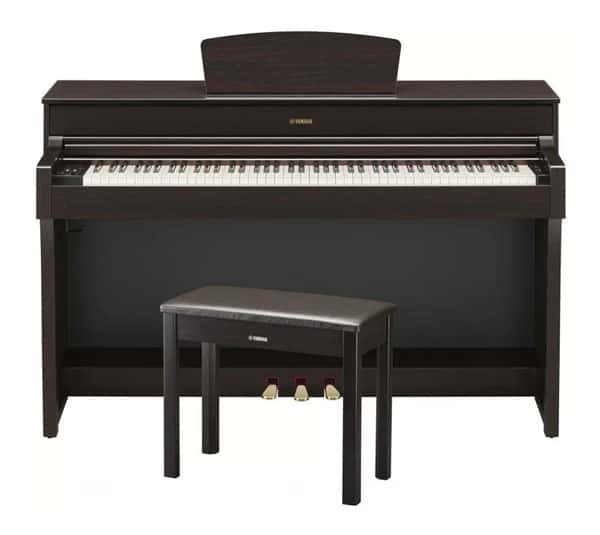 The Arius range offers multiple console pianos, and they're all good options if you are looking for a digital piano to use at home, or in a studio. 
They're not the most portable, and the YDP-184 is a heavy product. However, the light oak wood effect looks great. The weight doesn't matter too much if you don't need to move it a lot.
It comes with 14 inbuilt tones and the ever-reliable AWM sampling system. The piano sounds within sound brilliant and Graded Hammer action keys mean that you could be fooled into thinking this was an upright acoustic if you play it blindfolded.
The YDP-184 also includes "2 Track / 3 Song Recording – Record your performances to listen to yourself play". It also has USB to Device connectivity and allows you to use flash storage for recording songs. This is great for songwriters who want to store ideas.
Pros:
Looks fantastic in the home or studio.
AWM sampling.
Compatible with USB flash storage.
Comes with a recording mode.
Cons:
Quite a heavy model.
Not as many voices as some of the competing models.
Best Yamaha Synthesizers Workstation
At first glance, you might think this is another digital piano. Though it has the AWM2 sound engine with a great replication of piano sounds, it functions more as a synthesizer than a digital piano. We included it anyway since it's an awesome option for songwriters.
There are two types of synthesis included, the Advanced Wave Memory (AWM) includes 128 sounds, and FM-X synthesis has 64 voices to choose from. 
It has a 5.67GB ROM included to load up hundreds of voices to use. You can alter these using the "Super Knob" or sliders that control up to 128 parameters of the sound. It gives neverending options of audio possibilities.
To keep track of everything, there's a 7″ color screen. You also get 2,000 preset performances inbuilt so that you can revert to a template if it all gets confusing.
This ships with the Cubase DAW which allows you to record, mix, and sequence music intuitively. This is great for songwriters. No matter what genre or style of music you play, it will make you jam for hours.
Pros:
Endless sound possibilities and custom parameters.
Includes 5.67GB ROM and the Cubase DAW.
Full 88-keys.
Cons:
Doesn't offer GHS hammer action keys.
Frequently Asked Questions
How long do Yamaha digital pianos last?
There is no specific limit on how long a digital piano can last. Yamaha pianos are well-built, and if looked after, they can last decades. Stage pianos might have a shorter lifespan if they are used a lot on the road. They can be prone to scrapes and bumps that can cause damage. 
Some Yamaha digital pianos, such as the Yamaha Clavinova CSP-170 Digital Upright Piano, offer a five-year warranty. Take good care of your digital piano and it could provide you with 20 years of use. Some of the original digital pianos from the '80s still work to this day, so there is no limit on this.
Are Roland, Casio, or Kawai digital pianos better than Yamaha?
All of these brands have big ranges of digital pianos. While the very best Casio model might be better than the budget Yamaha range, if you compare within the same price range, Yamaha's pianos are hard to beat. We certainly wouldn't say any of the other brands are better, though they do also offer some great pianos.
What are the best headphones for Yamaha digital piano?
We've named the Sony MDR7506 Professional Large Diaphragm Headphone as the best headphones for Yamaha digital pianos. They offer excellent isolation so you can lose yourself in your playing, free of distractions.
The MDR7506 headphones also have a balanced frequency response letting you hear the full range of the piano. There are plenty of options for headphones that can do a great job. Check out our top 10 list here.
What is the best Yamaha digital piano for pop and jazz?
The Yamaha DGX-660 does a great job for a variety of genres including jazz and allows you to access electric piano sounds as well as loads of other voices, perfect for composing and playing pop and jazz songs. There are also inbuilt effects to give you customizable sounds.
What is the best Yamaha digital piano for classical music?
The Yamaha Clavinova CSP-170 Digital Upright Piano provides a great solution for classical music. The sound is modeled on iconic pianos throughout history, great for playing classical pieces and full concertos without compromising on the tone. 
It also has a 256 note polyphony which means no dropped notes. This high polyphony is one of the most important things to look for if you need a piano for classical music, especially if you are a professional, capable of complex playing. An authentic tone is also crucial.
Conclusion
Whether you are looking for a cheap option to get you started or you want a piano that can cope with playing live in front of huge audiences, there is something suitable in the Yamaha range for you. The brand has over 100 years of history, and it shows in their huge, impressive array of digital pianos.
After considering your preferred features and price range, one of the models on this list should stand out. You can now order and get your ideal digital piano delivered in a matter of days.
Anna teaches piano and guitar and also has extensive experience recording music. She's well read in music psychology and love to share the benefits of learning to play music.