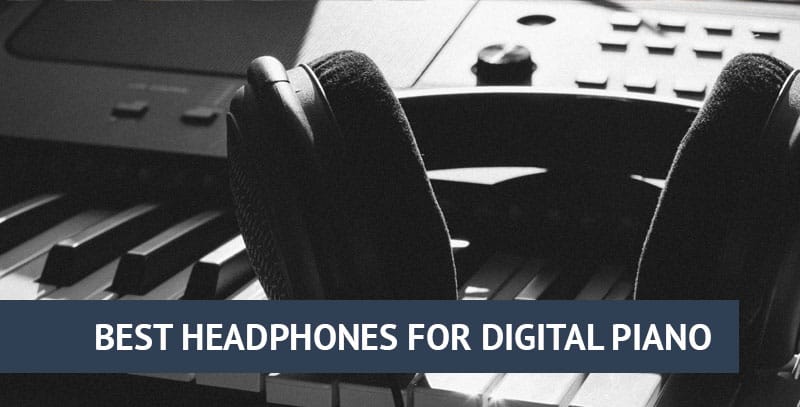 Most digital pianos have an inbuilt headphone jack, allowing you to listen to your playing without disturbing others. This helps if you share a house or practice late in the evening or early in the morning. It is also a way to play freely without others hearing you in the early stages of learning. 
In this guide, we explore the best headphones for digital piano. With the right headphones, you'll immerse yourself in the high-quality sound of your instrument and stay comfortable for many hours of practice.
Ratings for the best headphones for digital piano:
Best Overall Headphones
The Sony brand is known for its premium quality. Used by many well-known artists, the Sony MDR7506 headphones provide insane accuracy at a very reasonable price. Their neutral sound provides you with an accurate representation of the songs you are playing. No bass boost or unnatural sounds, which is rare and ideal for digital pianos.
A Neodymium 40mm driver provides plenty of power, so you'll have enough volume even if there is noise around. The closed ear cups also cut out external noises so you can fully immerse yourself.
For portability, there is a soft case included, along with a 1/4 inch adapter. You can attach to the 1/4 inch output design many digital pianos include, or to a 1/8 inch jack you might find on your phone or laptop.
The Sony MDR7506 headphones are also fairly comfortable. They are a classic and our top recommendation for pianists of all levels.
Pros:
Excellent noise isolation. Lose yourself in your piano audio.
Durability. These are built to last.
Long and hard-wearing cable including 1/4 inch adapter.
Foldable.
Cons:
Ear pads will wear out over time.
Most Comfortable Headphones for Digital Piano
Sennheiser is another well-trusted headphone brand. The HD280PRO provides you with quality, accurate sound, and comfort. Their amazing level of comfort is why they are so highly rated by us. If you tend to spend hours practicing and need something that won't distract you by digging into your ears or head, the HD280PRO headphones might be your answer.
The Sennheiser HD 280PRO headphones get their comfort from lots of padding on the ear cups as well as all along the headband. What's more, this padding is replaceable. It isn't too much of a problem if they wear down over time, as you can replace them.
These closed-back headphones do a good job of isolating ambient sound in the room. If you're using headphones for private practice because you share a home, this can prevent distractions from the television or your roommate's talking on the phone.
The frequency response is 15Hz to 23kHz, which provides great sound quality for listening to audio from your piano.
The impedance is 64 Ω. This is pretty standard for most home audio, and will work with your digital piano. For other uses like monitoring from a mixing desk, you might want to add a headphone amp to get the best out of the HD280PROs.
Pros:
Very comfortable.
Replaceable padding and audio cord.
The closed-back design gives good noise isolation.
Cons:
Big and bulky, so not easily portable.
Best Bluetooth Headphones for Digital Piano
These headphones are available with Bluetooth or with a 3.5mm (1/8 inch) jack connection. If you have splashed out on a digital piano that has Bluetooth capabilities then the ATH-M50XBT are ideal to make use of it. No wires getting in the way.
These are based on the ATH M50x professional studio headphones, known for their exceptional frequency range. 45mm drivers give a good bass response and the frequency range starts as low as 15 Hz, so you can hear the full range of your piano playing.
Simple controls are inbuilt in the ear cup. You can even use these headphones to take calls when they are linked to other devices. 
There's a USB charging cable included, and a carrying pouch so that you can protect the headphones even when you put them in your backpack ready to take out and about with you. They fold up, too, for easy storage. 
Pros:
Plenty of padding and comfort over long periods of listening.
Foldable to save space.
Available with or without Bluetooth connectivity.
Cons:
More expensive than some competing options.
Depending on your piano, setup can be complex.
Best Open-Back Headphones for Digital Piano
Open-back headphones like the ATH-AD700X might not give you the same level of noise isolation when compared to closed-back headphones. However, they can provide you with an excellent soundstage and natural audio quality to hear the detail of your piano playing.
If you are using these headphones in a studio environment, or a quiet space, they will give you a beautifully clear sound. If you want to wear them in other environments, ambient noise might be an issue.
This set of headphones offers 53mm drivers in each cup. This gives plenty of power and clarity both for treble and midrange frequencies. 38-ohm impedance is suitable for most digital pianos and no additional amplification is needed.
The open-back design means pressure doesn't build up on the ears as much as with other headphones.
For comfort, there is a "wing support" section that adjusts to the fit of your ears. No matter what size and shape your head is, these should be comfortable and snug while you play. Wearing them for long periods of time is no issue, so you can give yourself all the practice time required before a show, or listen to music you love for hours on end.
Pros:
Open back means less pressure and a natural soundstage.
53mm drivers provide lots of power and clarity.
3D wing support helps this pair of headphones sit comfortably.
Cons:
The bass response could be a little better.
Build quality could be more robust.
Best Value for Money Headphones
Getting quality headphones that enhance the sound of your piano doesn't have to be costly. AKG is a brand with a prestigious history. If you don't want to invest hundreds of dollars and still get an excellent sound, the AKG K72 headphones are the best option.
These simple headphones aren't high-end, but they have plenty of quality for reproducing a piano sound. They're lightweight, and they come with a self-adjusting headband. Meaning they fit larger or smaller heads just as easily.
These headphones are perfect for digital pianos, but also suitable for use with studio equipment, musical instruments, and audio devices. They have low-impedance so they can be used with most devices, with no need for a headphone amplifier.
One key difference between the AKG K72 and some of the more elite, high-end headphones is the materials. The design relies more on plastic than some other headphones and doesn't feel quite as hard-wearing. While still offering good sound reproduction, these headphones might not be your piano companion for decades as after a few years they might degrade or wear.
Pros:
Great value for money.
Forms a close fit for great sound isolation.
Cons:
Won't last as long as some other headphones.
Quite small, so not great for a piano player with a bigger head.
Best Budget Pick
You might be starting to learn piano on a budget. Not everyone wants to spend hundreds of dollars on an elite model of headphones. If you've only spent $100 on a keyboard, there's no point in spending the same on your headphones.
The piano sound reproduction doesn't have to be amazing for you to be able to hear accurately. If you are a beginner, you are probably more worried about getting the chords right rather than appreciating all the nuances you get with high-end headphones.
The Panasonic RP HT161 will allow you to hear your piano with no issues. Though they might not give the most beautiful, natural sound, they're fine for beginners, and your wallet will thank you.
For the money, the frequency response is great, and the padding forms a good seal over the ears. You wouldn't use these in conjunction with a studio monitor for creating a mix of a song, the 30mm drivers and cheaper parts don't give the sound accuracy. However, for just learning piano and playing simple songs, these are fine.
Pros:
Very affordable.
Relatively hard-wearing for the price.
Cons:
No adapter for 1/4 inch outputs included.
The drivers aren't very powerful.
Not as comfortable as most other models.
7. COWIN E7 PRO Active Noise Cancelling Headphones
Best Active Noise Canceling Headphones for Digital Piano
The COWIN E7 headphones let you make use of noise-canceling, connecting to your piano with wireless technology.
Active noise canceling is different from noise isolation. Isolation just means the seal that is created between your headphones and your ears, which keeps external sound out, and prevents sound leakage from the cans.
If you practice piano in a really noisy environment, isolation might not be enough. Active noise canceling is great for canceling out the hum of an appliance or public transport.
The 45mm large-aperture drivers provide plenty of power, and the ear cushions are relatively soft and comfy. You can listen for hours on end whether you are practicing piano or just listening to songs, as a 30-hour battery life keeps these wireless headphones going for days at a time.
They're relatively budget-friendly for a wireless pair of headphones. As such, they don't quite have the elite sound and frequency response some other models offer. They are still a great choice for your piano practice sessions and personal listening habits.
Pros:
Active noise canceling can reduce unwanted sound by 30 dB.
Reliable Bluetooth connection.
Good value for money.
Cons:
Can be awkward to "unpair" with Apple devices and connect to other devices.
Quite a closed, narrow soundstage.
Best High-End Sound With Detachable Cable
Sennheiser HD headphones all have great, immersive sound. If you are a true audiophile, you won't be disappointed by the HD 599s.
On top of having great sound quality, these have a detachable cable. This means if the cable breaks you don't have to get the soldering iron out. On top of that, you can switch between the cables you need to connect to your piano, whether that's 1/4 inch or smaller.
You'll notice a retro design, which people tend to either love or hate. The functional side of the design means really plush ear padding to give comfort for a long period of time.
The brand's 'Ergonomic Acoustic Refinement' (E.A.R) technology gives a better, wider soundstage with a replication of the acoustic stereo field some headphones struggle to recreate. Close your eyes and you'll picture yourself playing on a grand piano in a concert hall.
Pros:
You can replace the cable.
Excellent, audiophile sound quality.
Robust and rugged design with two years Sennheiser warranty.
Cons:
The price point might be too high for you.
The retro design splits opinion.
Best Headphones with Replaceable Parts
Some headphones tend to last a year or two and then something breaks, meaning you have to replace the cans altogether.
The Beyerdynamic DT 880 can be a companion for your digital piano for as long as you need. Every part is replaceable and can be purchased from Beyerdynamic. That means no unnecessary waste or throwing headphones away at the first sign of trouble.
They come in three different models with different impedance. 32 ohms suits mobile devices and some instruments, while 250 ohm and 600-ohm models are better for pro studio equipment.
These headphones offer a professional frequency response and a great clear sound. On top of this, they're some of the most comfortable digital piano headphones you can buy. The skin-friendly velour around the ears gives a feeling of luxury.
Pros:
Covers frequencies from 5 to 24,000 Hz.
Incredibly comfortable design with velour padding.
All parts are replaceable.
Cons:
Quite expensive.
Some models of these headphones need an amplifier or a full stereo system.
Best Yamaha Digital Piano or Keyboard Headphones
Just because you have a Yamaha digital piano doesn't mean you have to go with the headphones too. However, the HPH-MT5 headphones are a good fit for any brand of digital pianos or keyboards.
These are "monitor" headphones. They're designed to give a balanced sound that is suitable for use in recording studios or for mixing your own music. As such, they give an accurate representation of the piano sound.
They're rugged, but also portable. They have a carry case and folding design and are made out of lightweight 250 G Hardware.
The ear cups swivel, which means they adjust to the shape and angle of your head and ears for comfort while you practice piano.
Pros:
Relatively affordable.
Excellent Yamaha build-quality.
Foldable and portable.
Cons:
Can clamp to larger heads and cause fatigue.
Buying Guide
Our buying guide is designed to help you to choose the best headphones for your own needs, and understand some of the terminologies associated with headphones.
Wireless or Wired?
Bluetooth has become more common in digital pianos. Some pianos like the Roland GO:Piano 61 Key Digital Piano have Bluetooth connectivity. Most people are satisfied with wired. It's cheaper, more reliable, and you will be sat next to your piano while playing anyway. The extra range of wireless isn't really helpful.
Impedance
Impedance is worked out based on the circuitry of the audio equipment in question.
Higher impedance is usually suitable for mixing desks and amplifiers in the studio. 250 Ω is fine for home studios or home audio systems, and 32 Ω is common for use with devices like phones, and usually suited perfectly to your digital piano.
Without delving into the science of headphones and musical equipment, it is about matching your device output with the rating of your headphones.
Response
The response of the headphones to certain frequencies impacts how detailed the sound is in those areas. For instance, some boost the bass frequencies, others respond better to mid-range and high frequencies. When we talk about a "balanced" sound, we mean something that doesn't taint the sound with a huge bass boost, for instance.
Headphones should give a detailed sound, letting you hear a boom or rumble when playing bass notes at the low end of the piano and the chime of tinkling the higher keys.
Fit and Padding
The fit of your headphones is really important. Most modern headphones have a flexible fit, meaning that you can adjust the band to give you a comfy fit.
Padding is also crucial to a comfy listening experience. Some of the headphones on our list even make use of velour padding for a plush feel on the ear pads. You shouldn't have to cut your practice short because of your ears or the top of your head hurting.
Headphones or Earbuds
You will notice on our list of the best headphones for digital piano, we haven't recommended any earbuds. When you are playing an instrument, headphones are better for a number of reasons:
They don't cause as much ear fatigue.
They usually do a better job of blocking out ambient noise.
Padding makes them more comfortable, even when used for a long time.
They usually give a wider soundstage, with a feeling of a stereo field and a simulation of the acoustics of listening to music live or on speakers.
Conclusion
You might be looking for cheap but decent sounding headphones. You might be looking for exceptional sound, no matter the price. Alternatively, comfort might be your number one priority for those long practice sessions. We've all felt our ears getting achy after long periods using headphones.
Whatever your priority, there is something for everyone on our list of headphones for digital pianos. You can also use any of the headphones reviewed for other things, so you might want to invest in a set of headphones that can be used with your phone as well as your keyboard or digital piano.
Founder of Acoustic Realm, Charles is a musician who has been playing for over 20 years. A multi-instrumentalist with a degree in music, he loves researching and writing about music instruments and has been a producer since 2017.