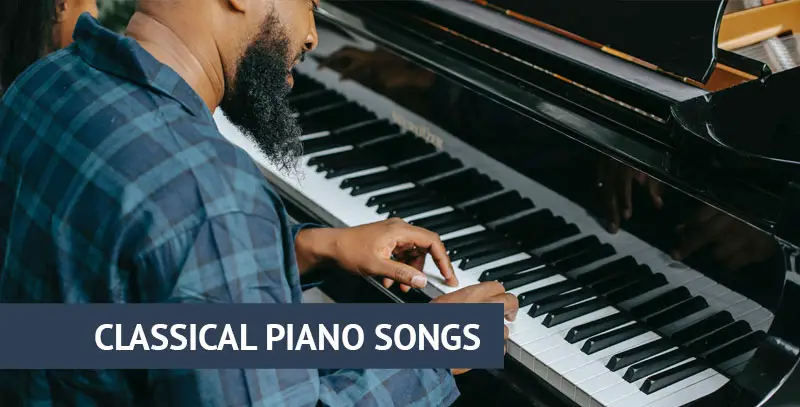 Every pianist should learn some classical songs, they are the very foundation of the kind of contemporary music we hear today. 
In this article, I've assembled a list of the most popular pieces that can be learned by beginner and intermediate pianists. 
Fun fact: Most people call them songs but the right name is actually 'piano pieces' or 'compositions'. 
Our list includes the most influential names like Brahms, Mozart, and Bach. Even if you don't know all the compositors, you'll most likely recognize the melodies.
Practice Tips to Learn Songs Faster
Listen to the song more often. This is especially true with classical piano music if you don't know it well. You might need to listen a lot, in more detail, so that you understand how it should sound before attempting it yourself. 
Break it down into sections. This will prevent you from feeling overwhelmed and motivate you to keep learning.
Don't skip the hard parts. It can be tempting to just learn one of the melodies or to skip through more complex sections. For example, you might just learn the right-hand melody and ignore the left-hand bass notes. It could still sound good, but it's best to learn the full piece. You'll get there quicker if you tackle the hard parts early.
Play slowly to start with (use the Playback Speed feature if you play with the video tutorials) A lot of these songs have some very fast playing. Slow down and learn the song properly before increasing your speed. You will be more comfortable playing it up to tempo when you started slow.
1. Ode to Joy – Beethoven
Difficulty score: 2/10
This is one of those compositions that everyone will recognize, even if stripped back and played on one hand. 
It has simple fingering and a melody that even absolute beginners shouldn't find too challenging. If you add left-hand playing in, it becomes a bit more tricky, but it is still manageable.
Plenty of piano teachers uses this (or a simplified version) as the very first classical piece to attempt.
2. A Little Night Music (First Movement) – Mozart
Difficulty score: 3/10
Though it wasn't initially composed to be a solo piano piece, this works well on piano or keys. Even the orchestral sections translate well. 
Wolfgang Amadeus Mozart has some challenging compositions, but this is among easiest on the whole list, with a slow pace and some simple chords combined with a really straightforward melody. If you are a beginner looking for an easy song to play, why not start with Mozart.
3. Prelude, Op. 28, No. 4 – Chopin
Difficulty score: 4/10
A Frederic Chopin composition that is good for beginners. It has simple chords played with the left hand and a relatively slow and brooding melody on the right hand. 
This is one of those classical piano pieces pretty much everyone recognizes, so it is rewarding to learn. It can make you sound like a pro, even early in your piano journey.
4. Sonatina in G, Anh. 5, No. 1 – Beethoven
Difficulty score: 4/10
This easier piece by Ludwig Van Beethoven may take longer to learn than some of the others on the list, but it is not necessarily more difficult. There are more sections, but all are relatively simple.
The arpeggios and the fact that this is a little faster make it a good song for beginners to test their abilities and improve their technique. It is also a joyous little tune.
5. Primavera – Einaudi
Difficulty score: 5/10
One of the more contemporary pieces on the list. Primavera is a beautiful modern composition by Einaudi which has the benefit of being relatively simple to play on the piano. 
The song was originally performed in E flat; the track has a signature emotive and moving andante melody played on the right-hand while the left cycles through chords. This piano piece has been used on so many different TV spots and movies that plenty of people will recognize it.
6. Clair de Lune – Debussy
Difficulty score: 5/10
This song has an approachable feel for beginners. Not only is the beautiful B-flat minor composition relatively slow, it is a stunning piece of music that tugs at the heartstrings. 
There are so many different versions and arrangements of this Claude Debussy composition, and a little bit of searching on YouTube will show you some different methods of playing it, but we've included a simple tutorial below.
7. Prelude No. 1 in C major – Bach
Difficulty score: 5/10
Working our way through some of the very best classical composers, Johann Sebastian Bach is next on the list with his Prelude No. 1 in C major. 
This recognizable track has an arpeggiated playing style. The left hand playing is simple, and once you get used to the chords you are cycling through with the fingers of your right hand, you'll have this piece down.
8. Fur Elise – Beethoven
Difficulty score: 5/10
Beethoven blessed us with a few classical pieces suitable for beginners to get to grips with. Fur Elise is played in A minor, and is one of the best known compositions of all time, and is definitely worth adding to your arsenal.
In the simplified versions, like the tutorial below, the left hand is simple, and the right hand is the only real challenge, though the piece does evolve and change somewhat.
9. William Tell Overture – Liszt and Rossini
Difficulty score: 3/10
Franz Liszt met Gioacchino Rossini in one of Europe's capital music centers, Vienna, in the 1800s.
The William Tell Overture, played in E major, is one of those melodies that you will almost certainly know, even if you can't place the composers. The notes aren't too difficult, but this is one of those pieces that works far better if you can play it really quickly.
10. Gymnopédie No. 1 – Satie
Difficulty score: 6/10
Erik Satie wrote Gymnopédie, his most famous composition, in the late 1800s. It is still recognizable for its beauty and simplicity today. 
The iconic intro is the easiest part of this composition to play. The piece is in D major and doesn't become too challenging as it evolves. Good for beginners and intermediate players.
11. Movement 1 (Moonlight Sonata) from Sonata in C-Sharp Minor, Op. 27, No. 2 – Beethoven
Difficulty score: 7/10
As you can see, Beethoven has a few simpler piano songs to learn. As opposed to his more complex and difficult pieces, this one is accessible even to beginner pianists.
The Moonlight Sonata is a slower, emotive piece, ideal for intermediate players and those just starting to advance from a beginner level. 
12. Piano Concerto No.2 – Rachmaninoff
Difficulty score: 7/10
A lot of beginners want to be able to play a piece by the iconic Sergei Rachmaninoff. There aren't many easy piano compositions but his Piano Concerto No. 2 in C minor is one of the more approachable compositions.
13. Hungarian Dance No. 5 – Brahms
Difficulty score: 7/10
The Johannes Brahms piece seems simple from the intro, but as it moves on it has some real tests of your technique. 
The piece is in G minor, and the fingering is the main challenge as it moves through some fast sections to test even an intermediate player. 
14. Vom fremden Ländern und Menschen from Kinderszenen – Schumann
Difficulty score: 8/10
Robert Schumann is not the best-known composer on this list, but this piece, often translated as "Of Foreign Lands and Peoples" is a well-known and upbeat song in G major. 
Schumann's composition provides a challenge for the intermediate pianist who wants to reach the next level of their playing.
15.  The Entertainer – Scott Joplin
Difficulty level: 9/10
We didn't promise they would all be easy. The Entertainer is a relatively contemporary piece that is instantly recognizable. Surely every aspiring pianist wants to be able to sit at the piano and play this.
It's fast, and it is a challenge. Lots of the sections contain consecutive right-hand octaves that are demanding, but it is certainly rewarding when you master this piece.
Conclusion
Hopefully, you're inspired to sit and learn some of these best-known classical pieces.
This list has a selection of songs for beginners, all the way up to more advanced players, so you're bound to find a brilliant classical piano song to learn along the way.
Let us know if you have a classical piece you love to play that didn't make the list.
Anna teaches piano and guitar and also has extensive experience recording music. She's well read in music psychology and love to share the benefits of learning to play music.