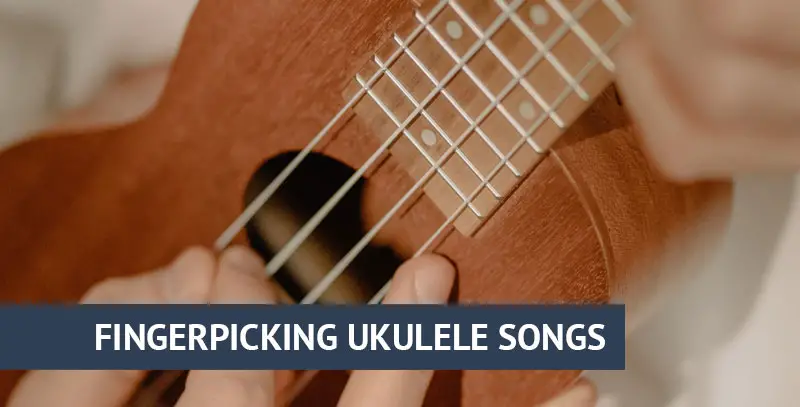 Fingerpicking songs are a way to increase your skill level and move on from just playing simple chords. Plus, they sound great.
Fingerpicking techniques can take a little bit of time to master, but they're worth it for the new songs you'll be able to play, or your existing favorite songs in a new style. 
In this article, we dive into 20 easy fingerpicking songs that are popular for beginners and let you enhance your skills.
Fingerpicking Tips
Watching fingerpicking on guitar and other stringed instruments can be intimidating. 
Here are a few ways you can streamline the process and learn fingerpicking methods more quickly.
Learn the basic chords first. A lot of fingerpicking requires you to cycle through the notes of a chord. You should know the mainstream chords so that you aren't having to think too much about chord shapes as well as what your right hand is doing.
Practice without playing any chords. So, using your strong hand to practice cycling through the strings (normally the G, E, and A strings) with open frets.
Start slowly. This applies for any new technique you plan to learn. Start out slowly and play at a slower tempo until you get to the point where you are confident picking the individual strings.
Make sure you get the correct hand position. This makes it easier to get the pressure on the strings and avoid accidentally pressing multiple strings. Your thumb should align up against the back of the neck, letting your fingers curl around to the front and cover the whole fretboard to reach chord shapes easily.
Practice makes perfect. Like most aspects of learning an instrument, it takes time to get good at ukulele fingerpicking.
How to Read Guitar Tabs
Unlike ukulele chords where you will be strumming all four strings, tabs indicate what is happening on every string.
Tab, short for tablature, is quite a literal approach to playing an instrument. It has its limits when compared to sheet music, but it is helpful for beginners and is much quicker to learn.
There are four horizontal lines (six if you are reading guitar tab) and these correspond with your ukulele strings. 
The numbers that appear on the strings show the frets you need to play. For instance, a "2" would indicate you need to hold down the string on the second fret.
Left to right indicates time passing. This is naturally the way we read, anyway, so it is pretty intuitive. You play the note on the left first. The simple fingerpicking patterns usually involve playing three strings in order, sometimes repetitively while your left-hand cycles through chord shapes.
1. Can't Help Falling in Love – Elvis Presley
This song is one that is known and enjoyed all over the world, and there are lots of cover versions bringing it to new audiences. The fact that it is slow, and a great song to sing along to, makes it a good choice for beginner ukulele players.
2. Here Comes the Sun – The Beatles
This song uses simple and straightforward chords, and while it can take a little time to learn the fingerpicking pattern, it is an iconic song with a bright and breezy feel. This is perfect for playing on the ukulele.
3. Hey There Delilah – The Plain White Ts
Remember when this song was everywhere? The Plain White Ts might have been "one-hit wonders" but they gave us a simple fingerpicking song. 
It's one of the easy fingerpicking songs for ukulele that you can learn to wow your friends even if you are a relative beginner. It's also another singalong classic great for playing at parties or around the campfire.
4. Happy Birthday – Traditional Song
This is definitely a song to have in your arsenal as a ukulele player. Whenever it is somebody's birthday, you can be the one to start the singalong. It's pretty slow and simple, too, so a good fingerstyle song to learn in the early stages of your ukulele journey.
5. Don't Worry, Be Happy – Bobby McFerrin
A beautiful, breezy and upbeat song that sounds natural when played on your Ukulele. Everyone knows the words, and though people tend to associate the song with choppy ukulele chords, you can also play this easy ukulele song fingerstyle. Now you just have to find a friend to help you with some vocal harmonies.
6. Can You Feel the Love Tonight – Elton John
Those who grew up watching The Lion King will instantly recognize this absolute anthem. You can usually rely on Disney to come up with some classic songs for their movies, and Elton John nailed the soundtrack to The Lion King. This song wasn't written for ukulele, but sounds great as a fingerpicking track.
7. Baby Can I Hold You – Tracy Chapman
A lot of people love this emotive and simple song to play on the ukulele. If you have the voice to belt out this classic then it should certainly be on your list of songs to learn. It isn't as world-famous as some of the others on the list, but plenty of people know this Tracy Chapman ballad.
8. Hallelujah – Leonard Cohen
This is a song that has been covered about 1,000 times by different artists. No matter what instrument you want to learn, your teacher may get you to have a go at playing Hallelujah at some stage.
I was really surprised when I first heard this on ukulele. The song translates really well to this delicate little instrument.
9. King of The Road – Roger Miller
King of The Road sounds like it was made for uke! Even if you think you don't know the song, you'll probably recognize it as soon as you start listening.
The tutorial above isn't in English, but it does have a useful tab embedded in the video for playing along. 
10. Mellow Yellow – Donovan
"They call me Mellow Yellow". Okay, they're the only words we knew before doing some research, too, but at least people can sing along to that part.
The song has a couple of little challenging sections in the ukulele fingerpicking, but it is generally pretty simple to get to grips with.
11. Spongebob Theme
It's more of a ukulele riff than a traditional fingerpicking song, but it sounds absolutely iconic on the uke! One of the few songs on our list of easy ukulele songs that was originally written for the instrument, and we love that bright sound. Takes us straight to Bikini Bottom.
12. Que Sera Sera – Doris Day
Did someone say singalong? This Doris Day classic has a fun 3/4 waltz timing and is nice and slow for beginners.
13. Sign of The Times – Harry Styles
The best ukulele fingerpicking songs don't have to be 50 years old. This Harry Styles song has more of a contemporary feel to it and is a simple choice for beginners.
14. Sound of Silence – Simon and Garfunkel
Just five chords to learn to play this somber classic. A lot of people think of the ukulele as a bright and fun instrument, but this shows it can be emotive, too. Sound of silence is so much more than a meme song.
15. Jambalaya – Hank Williams
Another song that sounds 100% natural on the ukulele. It has that fun and jaunty Hawaiian ukulele vibe. Not the slowest song, but achievable for beginners.
16. The Scientist – Coldplay
It may not be the first song you think of when you hear the word "ukulele" but The Scientist by Coldplay is a beautiful song, super straightforward, and perfect for absolute beginners.
17. Greensleeves – Traditional
Sections of this song are a little more on the intermediate end of the learning scale, but if you take it slow you can pick up this medieval-sounding song in no time. It even sounds like you're playing it on a lute. 
18. Let Her Go – Passenger
Another modern song to learn in the fingerpicking style. This is insanely catchy and sounds bright and breezy on your uke.
19. Dreams – Fleetwood Mac
This falls into the "slightly tougher, but worth it" category. The fingerpicking itself is a little more tricky than some others, but it is quite repetitive, which makes it quicker to master.
20. Wellerman (Bonus Sea Shanty)
Want to know a song everyone will recognize? This song went viral recently due to a hot new take from Nathan Evans, but it is actually an ancient shanty. Parts of the song are chords, but there is some good old ukulele fingerpicking in there, too.
Conclusion
Once you've mastered playing chords on the ukulele it is time to move on to some easy fingerpicking songs. Our list gives you the choice between some simple and easy traditional songs, modern songs, and ukulele classics. Give them a try today!
Anna teaches piano and guitar and also has extensive experience recording music. She's well read in music psychology and love to share the benefits of learning to play music.