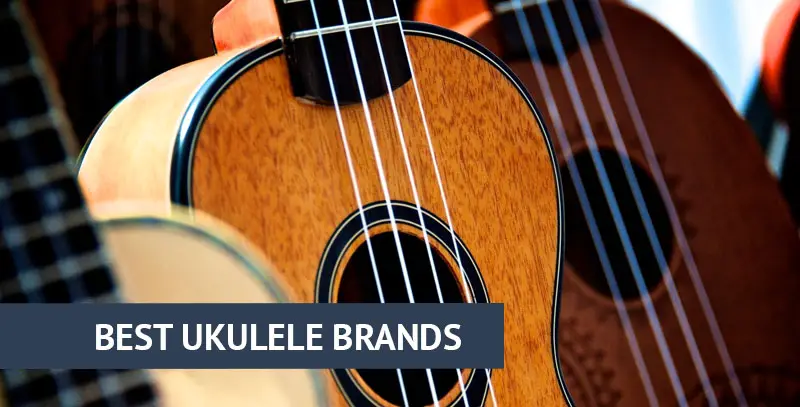 There are around 30 different brands of ukulele to choose from, varying from the cheap brands that you might see in a toy store to elite models that come with considerable price tags (and mouthwatering sounds).
It's insightful to do a little bit of research and learn about the brands you're considering buying from. This helps you avoid buying a dud and buy from a brand that resonates with you. 
When I bought my first ukulele, I did little research and it turned out to sound like a bag of angry cats. I later found out that there were some really good models available even cheaper than the one I had wasted my money on.
In this article, we've rounded up some of the best ukulele brands for 2022 and split them into beginner, intermediate, and pro models. Our research should help you avoid paying over the odds, getting a poor instrument, or buying something that won't suit your playing or music style.
Best Ukulele Brands for Beginners
1. Donner
Made in: China
Rating: 8/10
Recommended beginner models:
Donner is one of the best ukulele brands for beginners and entry-level players who want to save a bit of money. 
They use a lot of woods that represent value but also quality, such as maple. This usually means the ukuleles project loudly too, as maple is a good tonewood for making loud acoustic instruments.
Their ukuleles come in all mainstream sizes but the concert ukulele and soprano ukulele in their range are among the most popular ukuleles for beginner players.
The beginner focus is clear to see in the Donner range. Most of their models come with access to free lessons so you can pick up the basics of ukulele. These ukes also have a one-year warranty to protect your purchase.
2. Kmise
Made in: China
Rating: 7/10
Recommended beginner models:
The Kmise brand (no, I don't know how to pronounce it either) is a good option for beginners with a wide range of affordable ukuleles. In addition to their basic ukuleles in soprano, concert, tenor and baritone sizes, they also have electric ukuleles.
The brand has a great build quality when you consider the price. Their "About Us" page even shows photos of their factory and the high production standards they have. The traditional mahogany design of the ukulele provides a warm, quality sound.
Like some of the other beginner models, this ukulele brand is appealing to newbies as a lot of their products come bundled. This means you get a tuner and a gig bag along with some other bonuses like access to online lessons.
If you feel more adventurous you can go for the quirky hybrid instruments such as banjoleles in the Kmise brand.
3. Hola! Music
Made in: China
Rating: 7/10
Recommended beginner models: 
Hola! Music manufactures ukuleles in soprano, concert, and tenor sizes and focuses on the beginner market. At a really affordable price, they offer reliable instruments with a decent tone and playability to suit those who are just starting their uke journey.
On top of this, Hola! Music provides a lot of ukulele bundles which include a bag, tuner, and even quality Aquila Nylgut strings. They're great for gifting or for buying all you need to start playing.
When I bought my first cheap ukulele and discovered the sound was less than satisfactory, this is the sort of thing I should've bought instead. A wallet-friendly price tag that is reliable enough to take to lessons. 
The models have their limitations and the craftsmanship isn't quite up there with some of the intermediate and professional models on the market, but they use quality woods including zebrawood, rosewood, acacia, and mahogany, and keep their prices very reasonable.
4. Flight
Made in: China or Indonesia
Rating: 7/10
Recommended beginner models: 
Flight is another good ukulele brand for beginners to consider, especially if you want your choice of a lot of colors and designs. The range has lots of different finishes to choose between.
The brand has an interesting history, being based in Slovenia where its instruments are designed. They're not the most traditional brand and are known to use unconventional materials.
The fingerboard of their Travel ukulele series is made from ABS plastic, which helps to keep the uke portable and means you can play it on the beach or in the rain without worrying too much about the elements damaging your instrument.
Many ukes made in this way would totally lose their tone, but the Flight models keep a charming and bright sound. Some of their other models are not quite as successful, so you should probably stick to the ukes we've recommended above. 
Best Ukulele Brands for Intermediate
1. Kala
Made in: China or USA
Rating: 9/10
Used by: Vance Joy, Mandy Harvey, Walk Off The Earth
Recommended intermediate models:
Kala is a brand that covers the whole spectrum. They have high-quality ukuleles in the intermediate bracket, but they also have some professional and beginner models.
Most of their cheaper models are made in China, but whether you get one of the affordable ukulele models or you shell out a bit more for a top Kala uke, you can rest assured of the build quality and their ukuleles come with either a one or two year warranty.
The range is huge, too. This means that as well as having some mahogany models for beginners, they also use materials like bamboo and even koa wood in their ukes. Kala only launched in 2005 but its rise has been meteoric. They're one of the most popular ukulele brands on the market.
If you'd like a little more choice when it comes to ukulele design, you know that you can get all types of ukuleles in different shapes and sizes in the Kala brand. From small pineapple ukes to tenor ukuleles, there's something for you within their range.
2. Cordoba
Made in: China or Portugal
Rating: 9/10
Used by: Bryan Spainhower, One Republic, Guster
Recommended intermediate models:
You might already know Cordoba by their other musical instruments including a range of brilliant classical guitars and acoustic guitars.
Intermediate players may also enjoy their ukuleles, which offer good quality at a reasonable price range. The 15TM Tenor Ukulele is one of the very best models in the concert size for the money. 
This brand has brilliant craftsmanship. Cordoba are specialists in stringed instruments and you can tell by the look and feel of the Cordoba ukes. They come with a one-year warranty, too. 
The brand has some more professional models as well, so if you want to spend a bit more for that extra bit of quality, you'll have a great instrument for recording and performing.
3. Luna
Made in: China and Korea
Rating: 8/10
Used by: Vivian Hicks, Pipo Torres, Emma Stevens
Recommended intermediate models:
This is another brand that is known for its huge selection of quality instruments in a variety of different designs. This includes all ukulele sizes and there are also electric ukuleles made by the brand if you want to play with an amp.
The standout artwork and patterns, such as the tattoo pattern on their best-selling uke, have contributed to make these models popular for intermediate players. 
They've got the quality to back up the looks and the brand uses proven materials such as rosewood for fretboards, mahogany, and walnut as the tonewoods. 
In terms of craftsmanship, the manufacturers clearly have a lot of faith in their products, providing ukulele players with a lifetime warranty. The terms of this state: "We warrant all of our instruments to be free from defects in materials and workmanship for the life of the instrument."
The Luna ukuleles have a great projection, affordable prices, a sweet sound, and they're available in all ukulele sizes. The range has so many different designs so you can choose something to represent your personality while still sounding great.
4. Fender
Made in: China or Indonesia
Rating: 8/10
Used by: Dhani Harrison, Billie Eilish, Grace VanderWaal
Recommended intermediate models:
You knew Fender makes electric guitars. You may have known that Fender makes electric guitars, but did you know they make ukuleles?
The Fender ukuleles on the market are good quality and are mainly available in soprano and concert sizes. Many Fender models come with a one-year warranty and the craftsmanship exceeds what you'd expect from their acoustic guitars.
The ukuleles in the range are made of materials including basswood and mahogany, and some of their excellent signature models even use koa wood for the authentic sound of Hawaii (koa is most common in Hawaii, and it isn't cheap).
Fender's ukes have come such a long way, there are even some great signature models from artists including Billie Eilish and Grace VanderWaal. These have great designs, but also rich and interesting tones.
Best Ukulele Brands for Professionals
1. Martin & Co
Made in: USA or Mexico
Rating: 10/10
Used by: Israel Kamakawiwo'ole, Ben Howard
Recommended professional models: 
Martin is one of the most impressive brands for craftsmanship and incredible quality. The Martin 1T IZ Tenor Ukulele and the C1K acoustic ukulele are at a more expensive price point than many of the best beginner and intermediate models, but for those who want a great sound with no compromise, these ukes are at the top of my list.
The historic brand has around 100 years of history when it comes to making ukuleles, and they use the highest grades of wood including koa and mahogany. Many of the less expensive Martin models are now made in Mexico, but the majority are US-made.
Martin models are handmade and the materials and methods they use give a really authentic and traditional ukulele sound. 
The comfortable design of the frets and headstock using quality woods means that their ukes have amazing playability. Many touring musicians opt for Martin for their ukuleles as well as acoustic guitars. It's no wonder they've been known for making the top ukuleles for a century. 
2. Lanikai
Made in: Hawaii
Rating: 9/10
Used by: Brandon Bagby, Hayley Wilson, Brittany Glenn
Recommended professional models:
Lanikai manufacture their ukuleles in the birthplace of the ukulele, Hawaii. Though they have this tradition on their side, they are also not afraid to use new technology to improve their sound.
Many Lanikai ukes have the modern NuBone XB nut and saddle which gives a better sustain and a fantastic tone for professional ukulele players. Some models are electric as well, meaning you can amplify them easily for playing large shows.
Laminated wood such as maple and acacia are often used in Lanikai ukuleles, which also have a wide neck to help with better playability, and the craftsmanship and authentic Hawaiian design make these ukes fantastic with their sweet and bright sound.
Though they aren't cheap ukuleles, the Lanikai brand is available at a slightly lower price point than the competing Martin & Co models.
3. Oscar Schmidt
Made in: Indonesia
Rating: 8/10
Used by: Jason Castro
Recommended professional models:
The Oscar Schmidt brand sits somewhere between an intermediate and professional level. They've got ukuleles that are up to professional standards as well as those better for players graduating from their first uke.
Though the ukuleles aren't made in the US, they are checked once they arrive and inspected for quality by a qualified technician. Their ukuleles are virtually always exceptional in quality and have a brilliant, rich tone.
Oscar Schmidt has around 100 years of history producing guitars, banjos, mandolins, ukuleles and more. They actually started as an offshoot brand of Washburn (who still owns the brand today).
Solid wood options are used for their models, and Oscar Schmidt isn't afraid to use unusual woods such as spalted maple to good effect. This gives a bright but unique tone. 
Ukulele Brands to Avoid
Don't make the mistake so many people do when buying their first ukulele. If you spot one on special offer at Walmart or a general store then you might pick it up and think "yeah, this could be a cool hobby."
The chances are, for the same money, you could get a ukulele that is twice as good, and doesn't break on you the second you start strumming or need to be tuned 18 times per day.
There are a lot of cheap and "knock-off" brands out there that you should make a point of steering clear of. If you see a brand in a supermarket or general store it's generally best to avoid it.
There are a few brands I have tried that are underwhelming to say the least:
1. Stagg
Stagg is a brand that makes cheap instruments. You're not likely to see your favorite bands using any of their equipment. Unfortunately, any of the Stagg models we've tested have had a really flat and uninspiring tone, and have fallen out of tune very easily. Stagg's instruments can be hit and miss, and in this case, it is definitely a miss.
2. Martin Smith
This brand offers super-cheap basswood ukuleles that feel more like a toy than an actual quality instrument. 
It is flimsy, and a lot of reviews even report that the ukulele arrives with scuffs and scratches. It may be the cheapest of cheap ukuleles, but it is worth spending an extra $20 to get something that is actually reliable and made out of decent quality wood.
3. Strong Wind
Whether you think this sounds like a mystical native American name or you think it sounds like someone has had too much spicy food, the ukes aren't up to the quality of their competitors.
The design is a little flimsy, and while it isn't quite as "toy" feeling as some of the Martin Smith models, there are better choices out there for the money with less of an amateurish feel.
What Size You Should Get?
You will have seen us talk about the main sizes of ukuleles in this guide. Soprano, concert, tenor, and baritone.
Here's a quick rundown of the sizes to help you work out which might be most suitable for you (or you can check out the full guide to ukulele sizes).
Soprano Ukulele
They're the smallest ukulele and are usually 21 inches in length. They have a really high-pitched tone without much resonance, meaning short plinky notes. 
If you have big hands you might find this a struggle, they're small in size. On the other hand, this makes them even more portable and great for kids and teens.
Concert Ukulele
The next size up is at around 24 inches. They still have a pretty bright tone but offer a bit more projection, and often a bit more comfort for adult hands that struggle to strum the soprano uke.
Tenor Ukulele
A bigger design at around 26 inches long, which means better projection and a louder, deeper sound covering more low frequencies. The longer scale is great for those with big hands who still want to be able to use the whole of the fretboard.
Baritone Ukulele
Normally 30 or 32 inches long, these ukes lose some of the bright and traditional tone we associate with ukuleles. They're tuned more like a guitar so if you already have some experience playing an acoustic guitar, the baritone uke could be a natural next step.
As you can see, both the tone that you are looking for and the size of your hands can play a part in which size ukulele you opt for.
Conclusion
Millions of ukuleles are sold every year, and there are many brands producing quality options. So much competition helps to drive up the quality and choice.
Whether you want an affordable beginner model or you are just going for the maximum in quality regardless of price, there's something out there to suit you.
It doesn't take much research to ensure you don't buy a lemon, and we've done a lot of the searching and testing for you. Time to take the plunge and choose a quality ukulele brand to help you through the next step of your uke journey.
Anna teaches piano and guitar and also has extensive experience recording music. She's well read in music psychology and love to share the benefits of learning to play music.