Once you've learned easy ukulele songs, it's good to challenge yourself with harder ones. Harder songs have more complex chords and can require fingerpicking or tricky strumming patterns.
If you're anything like me, repeating the same three chords found in easy songs becomes boring after a while. The learning curve plateaus once you're comfortable playing these basic chords.
When I was looking to level up my ukulele skills, I found it difficult to find intermediate songs. So I spent time researching and came up with my own list.
Today I'm going to share this list that helped me reach the next level.
So tune up your ukulele and let's look at 18 intermediate ukulele songs to level up your playing.
Most Common Intermediate Chords
Whether it's a beginner or an intermediate song, you'll find major chords like C, F, and G are commonplace.
But it's time to ditch the repetitive C and F major rotation and incorporate barre chords into progressions. Barre chords will level up your playing.
I found B minor a good place to start. Simply because it appears in lots of songs.
Here are two tips I found helpful to master the barre chord:
Barre chords need more strength to get maximum power, place your thumb directly behind the fret you're barring.
Chords like Bm7 and Cm7 need you to barre all the strings. Apply more pressure if needed by adding your middle finger over the index finger.
The chord chart below highlights some chords you're likely to encounter.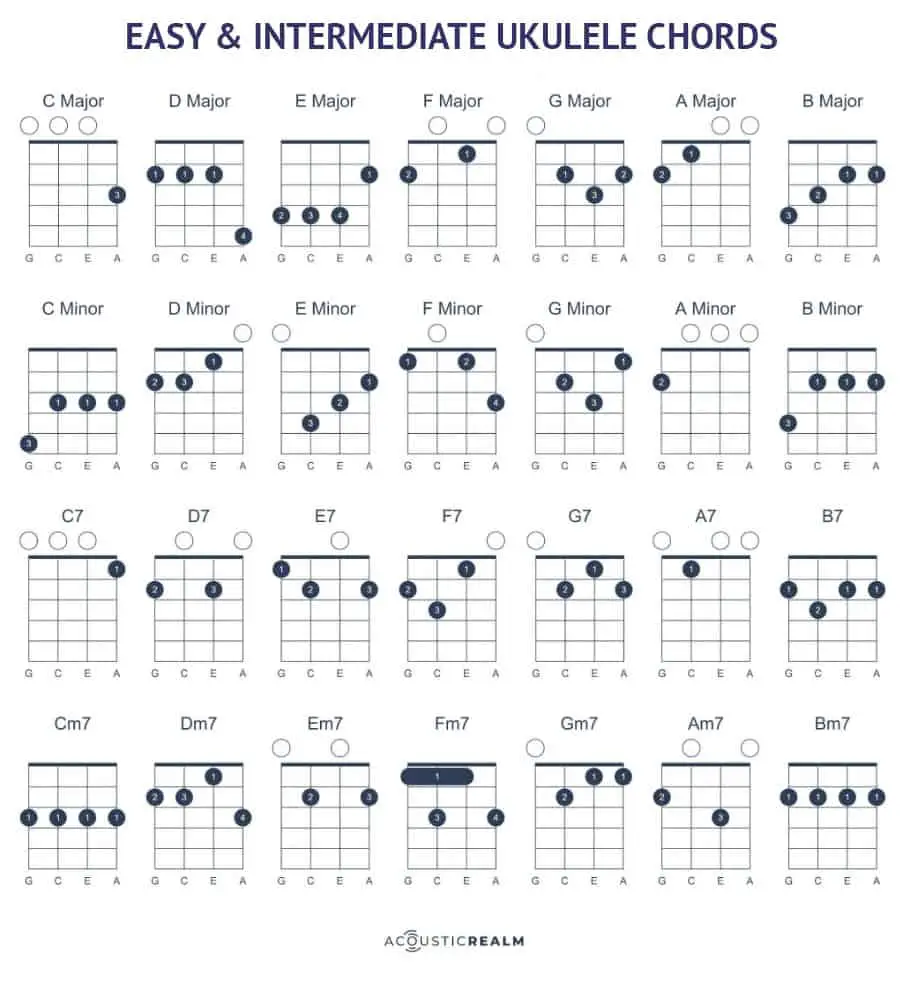 Common Intermediate Strumming Patterns
By now, hopefully, you've locked down some simple strumming patterns.
Intermediate patterns include more advanced techniques, like emphasized strumming and palm muting.
An emphasized strum is a stronger pluck on the strings. In strumming notation, a capital U symbolizes an emphasized up strum, likewise a capital D for a down strum.
Palm-muting mutes the strings. A (d) symbolizes a down strum while a (u) means an up strum.
To go deep into the realms of an intermediate, you need to engage in fingerpicking. It'll take practice and a lot of patience, but take it slow and follow the tutorials to help you out.
Once you've got advanced strumming in your arsenal, you're on your way to becoming a ukulele pro.
18 Intermediate Ukulele Songs In order of Difficulty
1. Billie Eilish – Bad Guy (Cm, D, Gm)
Let's start with a pop banger. Three chords?! Looks like a beginner song, right? Yeah, it's limited on the chord front but the sequence includes a Cm which is a barre chord. Bad Guy is a good first one to flow between a barre and an open chord. Feeling adventurous? Try playing the bassline.
Click here for chords and lyrics
2. Taylor Swift – Love Story (A, Am, Bm, C, D, F, G)
Going back to Tay Tay's country roots, Love Story has more chords than the previous song. These common chords are worth memorizing. Try to play these chords instinctively.
Click here for chords and lyrics.
3. Avicii – Wake Me Up (A, Bm, D, G)
Crushed the last song? Let's go to the next step with Wake Me Up. Again, there's a barre chord to contend with, but this tune is fast-paced, so try to keep up! 
Click here for chords and lyrics.
4. Audrey Hepburn – Moon River (Am, A7, B7, C, Cm, D7, Em, Em7, G, G7)
From the contemporary to an oldie. Perch on a window ledge (not too close) and strum these beautiful chords as you longingly gaze towards the sky. Moon River incorporates chords like B7 and E7 to further level up your barre chording.

Click here for chords and lyrics.
5. Dan and Shay – Speechless
Someone once described country music as 3 chords and the truth. Speechless evolves this theory with 8 chords and the truth. With this hit, you'll put your pinky finger to use with some complex shapes.
Click here for chords and lyrics.
6. Bryan Adams – Summer of '69 (A, Bb, Bm, C, D, F, G)
Summer of '69 uses both beginner chords and more elaborate barres. The chorus has faster chord changes to keep you on your toes. Not only will it push your skillset, but its classic rock chorus gets your friends singing along. All together now "When I look back now…"

Click here for chords and lyrics
7. Lynyrd Skynyrd – Sweet Home Alabama (D, C, G)
Now for some advanced strumming. The chords are straightforward, allowing you to concentrate on your strumming hand. Sweet Home Alabama has both up and downstrokes with some emphasized strumming to boot.

Click here for chords and lyrics.
8. The Beatles – Here Comes the Sun (Am, A7, Bb, C, D7, F, G)
Playing Here Comes the Sun is a party trick you need in your armory. Ears stand to attention as soon as you play the first chords. You'll need some practice to master the fingerpicking, but when you figure it out, you can't help but smile. Besides, everyone needs a fab four song in their repertoire. 
Click here for chords and lyrics.
9. Simon & Garfunkel – Sound of Silence (C, D, Em, Esus2, G)
Hello darkness, my old friend. Still in the dark with fingerpicking? With its slow tempo, the Sound of Silence sheds light on the technique. 
Click here for chords and lyrics
10. The Eagles – Hotel California (A, C, Dm, D7, E7, F, G)
Hotel California is a classic! It combines the best of both worlds, fingerpick the intro and verses before strumming along to the chorus. A perfect song to learn how to transition between two techniques.
Click here for chords and lyrics
11. The Commodores – Easy (Bb, Bbmaj7, C, Db, Dm7, Eb, Ebm7, Em7, F, Fm7, Fsus2, Gm7)
Easy is anything but easy. This version has a groove to the strumming pattern, extra points for singing along and hitting those high notes in the bridge.
Click here for chords and lyrics.
12. Toto – Africa (A, B, Dbm, Dbm7, D, Ebm, Eb7, E, Gbm, Abm)
Africa by Toto is one of the more difficult on the list, but it's fun to play once you've got it. With some new chords to learn, you'll expand your library. Barre chords slide up and down the neck, reaching frets before unvisited.
Click here for chords and lyrics.
13. Bruno Mars – The Lazy Song (Am, Bm, B7, C, D, Em, G)
The chords seem easy enough, but now's not the time to get lazy. It's time to practice a new skill. Let's try muting the strings. This song is the tune to hone the technique. Strum the chord, then mute the strings with the outside of the palm. 
Click here for chords and lyrics.
14. David Bowie – The Man Who Sold The World (A, Bb, C, Dm, F)
The Man Who Sold The World is a maelstrom of advanced techniques. With an intro uke lick, you'll channel your inner rockstar, but as the verses come in, you need to get your chuck on. Chucking is very like muting but more percussive and fluid within the strumming pattern. 
Click here for chords and lyrics.
15. The Foundations – Build Me Up Buttercup (Bb, C, C7, Dm, D7, E, Em, E7, F, Fm, G)
The ukulele is a happy instrument, so let's get people smiling with a chirpy number. Build Me Up Buttercup is another song using chucking, adding a sweet percussive sound to strumming. If you're getting to grips with chucking, you're killing it!
Click here for chords and lyrics
16. Elton John – I'm Still Standing (A, Am, Am7, Bm, Bm7, D, Dm7, Dm9, E, E7, Em7, F, Fmaj7, Gbm, G)
Still standing? These songs are getting towards the upper end of intermediate now, so you may need to take a seat. I spent a lot of time trying to avoid playing Dm7. Sure you can cut corners and use a standard Dm, but why not challenge yourself with the Dm7.
Click here for chords and lyrics.
17. Elvis Presley – Can't Help Falling In Love With You (Am, Bm, C, D, Em, E7, Gb7, G)
Can't Help Falling In Love features on our list of sad ukulele songs and is perfect for stirring up emotion. This tutorial walks you through the steps to conquer the 3-way plucking system. Once you've crushed this handy fingerpicking technique, you can apply it to other songs.
Click here for chords and lyrics.
18. Abba – Thank You For The Music (A, Am, Am7, B, C, Cm, D7, D7sus4, Eb7, E, Em, E7, Em7, Gb, G, G7, Ab, Ab7sus4)
Thank Abba for the music! Are you someone who forgets your partner's birthday? This one might be for you. The sheer amount of chords will exercise the memory muscles. Trying to memorize the 18 chords puts this tune high on the difficulty spectrum.
Click here for chords and lyrics.
Conclusion
I hope you've enjoyed my collection of intermediate ukulele songs.
The ukulele is a misunderstood instrument. People miss the bigger picture when they say it's easy to play. Yeah, there are easy songs, but there are downright difficult ones too and playing them right requires talent, skill, and practice.
From the easier to more advanced intermediate songs, descend the list and watch your skills grow. You won't get them straight away, so feel free to bookmark this page and revisit to complete all of them.
Enjoy!
Drawing on over 15 years of experience in the music industry, Neal's writing specializes in all aspects of music. A self-taught guitarist who's passionate about words, he's at peace when songwriting. He finds comfort recording, traveling, and wearing his favorite leather jacket. Keep up to date on Twitter @TheNealSawyer