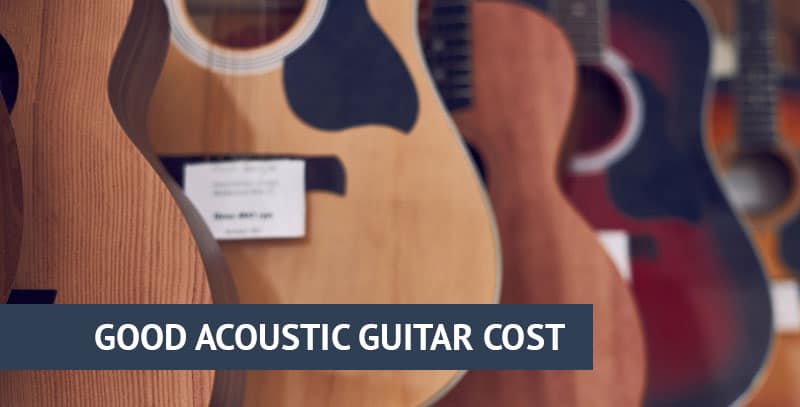 Do you need a good first guitar to meet your performance demands, but you've got a budget to stick to?
Good guitars excel in build quality, playability, sound, and aesthetics. The tonewoods on an acoustic guitar have a massive impact on the sound quality. The type of wood also hints at the level of build quality.
This is a major difference between acoustic and electric guitars.
Electric guitars can have poor quality layered woods, but still sound great when fitted with top pickups and played through a valve amp.
Whereas, an acoustic guitar with the same woods will sound dull.
But the big question is…
How much does a good acoustic guitar cost?
A good beginner's guitar costs between $100 to $500. This price range has underperformers, but there are hidden gems. Mid-level acoustics above $500 have superior audible characteristics. Whereas high-end acoustics above $1,000 have it all and have premium build quality often handmade in the USA.
Obviously, there are more details to it. So let's help you identify a good guitar from the bad for each level.
Entry Level Beginner Acoustic Guitars
Priced between $100 to $500, entry-level acoustics are affordable. But good guitars in this cheap price range are hard to find, particularly towards the lower end of the spectrum.
The cost-cutting measures made by manufacturers result in many lower-priced guitars falling short.
Even the best acoustic guitars in this price range have imperfections. You'll have to compromise. For example, the tonewoods could be great, but hardware like the tuners (pegs) are flimsy.
For standout performers in this range, turn to reputable brands like Epiphone and Fender.
The Fender CD-140SCE is an economical cutaway dreadnought. For me, the weight in the low-mids and glistening highs sound like they belong on a higher-priced guitar.
As a Fender, this guitar has a level of build quality. The tonewoods, on the whole, are durable and deliver full midrange and crisp highs.
The solid spruce top has similar characteristics to woods found on higher-priced guitars.
With a Fishman pickup, the CD-140SCE can connect to an amp or PA without modification. Gigging and studio musicians have a guitar ready to go for a bargain price.
Although a sweet-sounding guitar, it doesn't compete with most premium-priced instruments. This is in large down to the back and sides made of layered woods.
What's layered wood? You may find layered wood called laminated wood in the specs. It's a type of wood made by gluing thin layers of lumber together.
Using layered woods on the back and sides is a common cost-cutting exercise. Although enduring, laminates don't have sustain and tonal flavor like solid wood.
The Fender CD-140SCE price sits at the upper end of this category. So how cheap can you get a good guitar for?
Cast your eyes at the Yamaha FG800, proving excellent quality is achievable for under $200.
There's no sign of poor woods. Solid Sitka spruce top with rosewood fingerboard. Built from the resourceful version on mahogany, the nato back and sides contribute to the full and warmth of sound.
The Yamaha FG800 is a bargain pick. The sweet action and smooth playability make this guitar a diamond in the rough.
While things get murky in this price range, these are examples of two guitars that offer great value for the money.
The key to finding other gems is looking at the tonewoods. Spruce is a go-to wood for acoustics, so consider this for a durable sweet-sounding guitar.
If the woods are of outstanding stock, you have the foundations of a top guitar. You can replace hardware down the line.
Mid-Level Acoustic Guitars
A good mid-level acoustic guitar will cost $500-$1000. Here you can start making more demands for quality.
Let's highlight some hallmarks that separate these guitars from beginner picks.
For starters, the woods are of a higher quality. Even if the specs state a similar type of wood, it's often a better cut and condition.
On these guitars, the woods go through a meticulous process. Every fine detail matters.
It's someone's job to source the best wood. It takes years for manufacturers to dry the woods with careful consideration of humidity. Even then, the storage space has to be at an optimal temperature.
Ultimately, this means these guitars have heightened durability, resonance, and tonal character.
So, on mid-level guitars, there should be no layered woods even on the back and sides.
The Guild D-140 is a prime example with a solid spruce top with solid mahogany back and sides. Thanks to this makeup, I find this guitar offers a quintessential acoustic tone.
Not only will the woods be of a higher quality but the hardware is also of excellent quality in the mid-level price range.
For a player who wants to go against the grain, there's the Seagull Entourage.
Seagulls may not have the prestige of Taylor and Martin but they produce incredible guitars. Handmade in Canada, you can expect peak craftsmanship.
Seagull guitars use native woods contributing to a unique tonal personality. Solid spruce top with wild cherry back and sides, the balanced tone delivers a satisfying low end and sparkling highs.
Are you thinking of a classical guitar? Nylon string guitars, in general, are smaller than steel strings guitars. Because of the scaled-down size, there are fewer materials needed so you can get a premium pick for this price range.
The Cordoba C9 has peak performance for fingerpicking and classical techniques. The cedar top delivers a mellower tone than spruce for an ultimate rounded nylon string tone.
At a mid-level price, you can get an amazing guitar. Look for all solid wood guitars and robust hardware to find the best of the bunch.
High-End Acoustic Guitars
High-end acoustic guitars cost upwards of $1,000. It's a considerable sum, so let's discuss what you get for your money.
Perhaps the most noticeable aspect of high-end acoustic guitars is the brand names. At this price, you can get bucket list high-quality guitars.
Gibson, Taylor, and Martin are guitar royalty. These premium guitars dwell in the $1,000 plus category.
So what makes a good guitar for this price?
Like mid-level acoustics, you'll want an all-solid body guitar made of premium quality wood. Look for spruce, cedar, mahogany, or maple tops.
There's also a visual difference compared to lower-priced models. You'll notice the excellence of the wood shines through.
A natural-look nitrocellulose lacquer finish allows the wood to breathe. It's visually pleasing but this finish also allows the guitar to age with grace and mature in tone.
Entry-level guitars have a plastic-like finish. This is to the detriment of any aging effects. Of course, some guitarists may prefer this because polyester and polyurethane finishes are more scratch-resistant.
But what else makes these guitars stand out?
The country of manufacture plays a huge part in the price hike. Guitars built in North America sit at the top. But it's legitimate to ask why pay more?
A US-built guitar won't fall off a mechanical production line. The manufacturing process will have a large handcrafted input.
This means skilled luthiers sculpt every fine detail. It's the finer details like polished fret edges that contribute to superior playability.
Examples of great high-end guitars made in North America are the Martin D28, the Taylor AD17e, and the Gibson Hummingbird.
These are responsive and easy to play. They sound lush with consistency along the fretboard. They've inspired many iconic musicians and should continue to do so for years to come.
While this price bracket is a dream for most, it's a good investment if you're looking for a guitar that you will keep for a long time. When looking for a high-end guitar beyond these brands look for North American or even European-built guitars.
Overseas factories have stricter regulations than years gone by. So, the gap between the country of manufacture and build quality is decreasing.
That said North American guitars still lead the way. American-built Gibsons, Taylors, and Martins are widely considered the best guitars ever made.
Conclusion
In the end, it all depends on your budget. There's a good guitar for everyone regardless of price.
A good guitar will be easy for you to play and look pleasing to the eye. And these aspects are down to you as everyone is different.
There's a disparity in sound between an entry and high-level guitar. Nonetheless, to the average listener, the difference is often undetectable. So don't dishearten if you can't afford a premium guitar.
Remember, creativity shows no bounds.
My advice after years of playing acoustic guitars is this…
Pay attention to the tonewoods because this is the foundation of the guitar. You can replace strings, nuts, and tuners in the future. So get the basics and look for solid woods. This will contribute to durability and sound quality.
Although entry-level guitars will keep costs low using laminates on the back and sides. Still, make sure the top is solid.
Of course, like most things, there's a classic element of you paying for what you get.
Ultimately, whatever the price, if an instrument inspires you, then it's a good guitar!
Drawing on over 15 years of experience in the music industry, Neal's writing specializes in all aspects of music. A self-taught guitarist who's passionate about words, he's at peace when songwriting. He finds comfort recording, traveling, and wearing his favorite leather jacket. Keep up to date on Twitter @TheNealSawyer