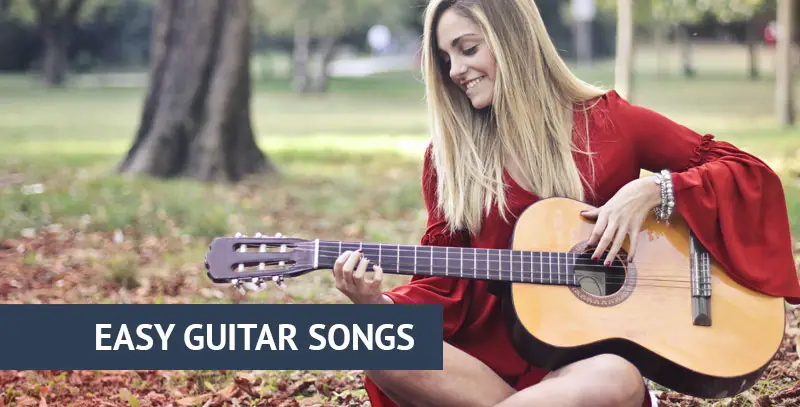 As a beginner guitarist, the songs you choose to learn will greatly impact your learning journey.
Songs that are too hard leave you frustrated. And playing the same 2-3 easy songs for too long becomes boring.
Learning songs that you actually love also motivates you to keep learning.
In this article, I have assembled a list of 45 popular and easy guitar songs. They are sorted by the number of chords so you can start with the easiest ones.
All songs include a chord diagram and a video tutorial. This is the list I wish I had when I got started.
Whether you play electric or acoustic guitar, this list is for you.
Most Common Strumming Patterns
Before you jump into the songs, learning the most common strumming patterns will save you a ton of time.
Plus, it will make your strumming sound more natural and effortless.
16 Easy Guitar Songs Using 3 Chords
Let's start with songs that use three chords or less. Ordered from easiest to more difficult, follow the list and pick the one you like. he two chord songs are an excellent starting point for a beginner.
1. Horse With No Name – America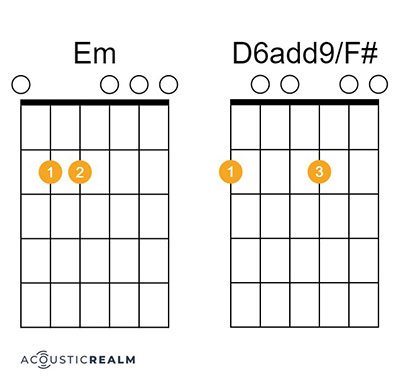 Key: E minor
Chords & Lyrics here.
Horse With No Name uses two simple open chords throughout. It's a great song and easy to strum along. The D6add9/F# looks scary but it's actually an easy chord.The key to crushing this song is to perform the recognizable strumming pattern.   
2. Something In The Way – Nirvana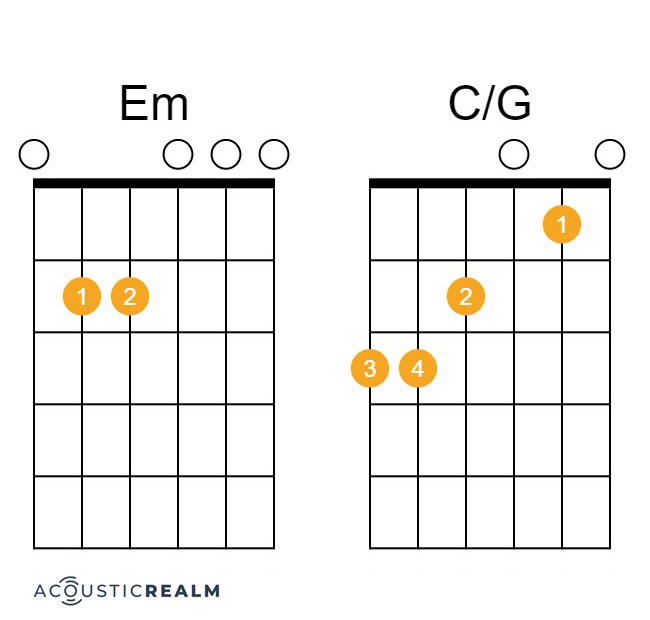 Key: F minor
Chords and Lyrics here.
Although still only two chords, the C/G is an unusual shape, so will take you a little practice to learn. Something In The Way is a stripped-back acoustic guitar song that's both easy to play and effective. To play in the same key than the recording, use a capo on the first fret.
3. Ring of Fire – Johnny Cash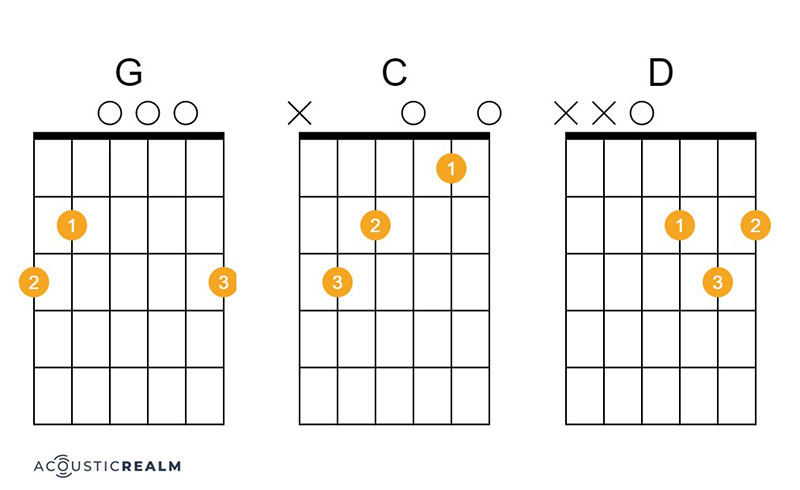 Key: G major
Chords & Lyrics here.
Ring of Fire is a versatile song. You should start at a slow tempo with this one and gradually increase it to match the song. Even at a slower tempo, this one is bound to impress. We'll have another offering from the Man in Black later.
4. Three Little Birds – Bob Marley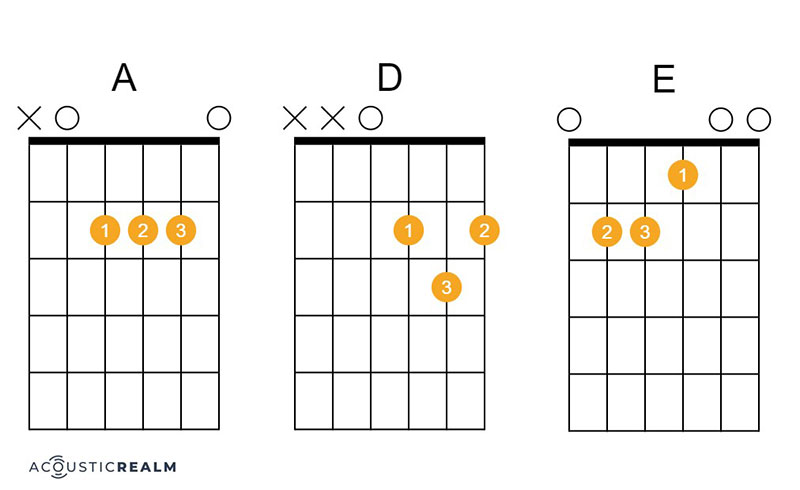 Key: A major
Chords & Lyrics here.
Not only three chords, but this simple song will also cheer you up on those down days. Using three of the most common open chords, it's an ideal starting point for new guitarists. Don't master it the first time around? Keep going, every little thing gonna be alright.
5. Dead Flowers – Rolling Stones
Key: D major
Chords & Lyrics here.
Rock and roll isn't rocket science. The Rolling Stones put this theory into action with Dead Flowers. Three chords and swagger is all you need to play this on acoustic guitar. But of course, it's the Stones, so it'll also sound killer through an electric guitar.
6. Bad Moon Rising – Creedence Clearwater Revival
Key: D major
Chords & Lyrics here.
How did you get on with Dead Flowers? If you've got it locked down, then Bad Moon Rising will be a breeze. Using the same easy chords, you can take the same changes and apply them to this belter of a tune. Also, the above tutorial has Keith Urban to help you through.
7. Get Back – The Beatles
Key: A major
Chords & Lyrics here.
Wow, that was two classic songs using the same easy chords. Want another song that uses A, D and G major? Here's one, and it's only The Beatles. With even three chords, your catalogue is growing. For full effect, try playing A major as a power chord.
8. Used To Love Her – Guns and Roses
Key: D major
Chords & Lyrics here.
Not exhausted D, A and G major yet? If you've got Dead Flowers, Bad Moon Rising and Get Back conquered, here's another one. Used To Love Her has a striking resemblance to Dead Flowers. There's a slight difference in the chord progression, but by now you'll be a master of these chords.
9. The Joker – Glenn Miller Band
Key: G Major
Chords & Lyrics here.
A number one in 1974, it goes to show, easy songs can be successful. It includes G, D and C major. These are three of the first easy chords to learn. So, learning The Joker helps you with other beginner songs. I get a lot of enjoyment playing The Joker. Especially when mimicking the wolf whistle. Fun fact, the wolf whistle is a slide guitar.
10. What's Up – 4 Non Blondes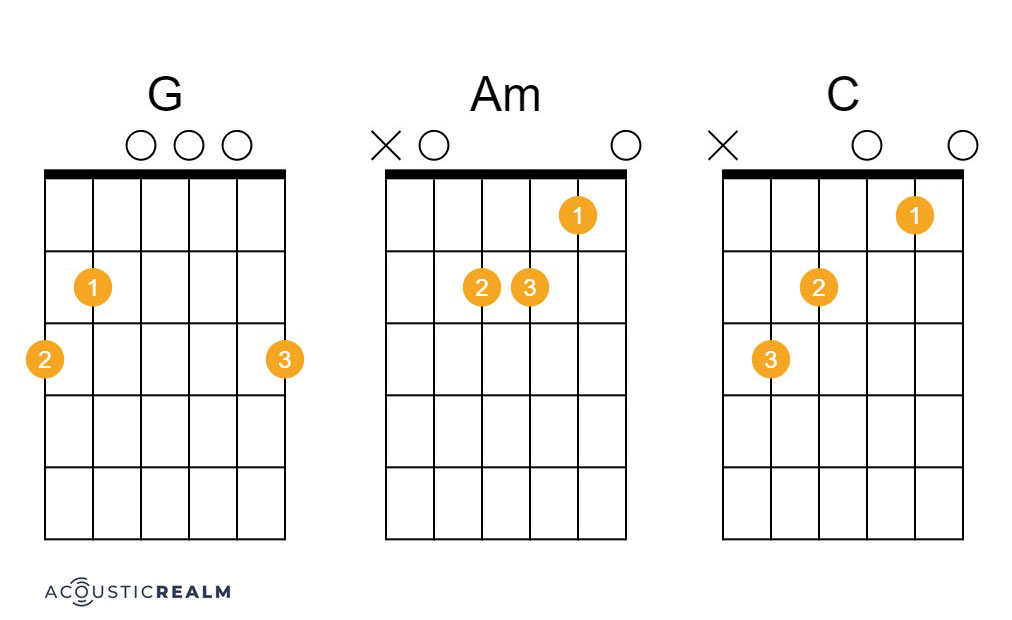 Key: A major
Chords & Lyrics here.
What's up? Want to try your new capo out? Put it onto the second fret and blast out this 90s classic. What's Up will help you familiarize what it's like to play with a capo. There are common G, Am and C chords, so it's a simple song to play.
11. For What It's Worth – Buffalo Springfield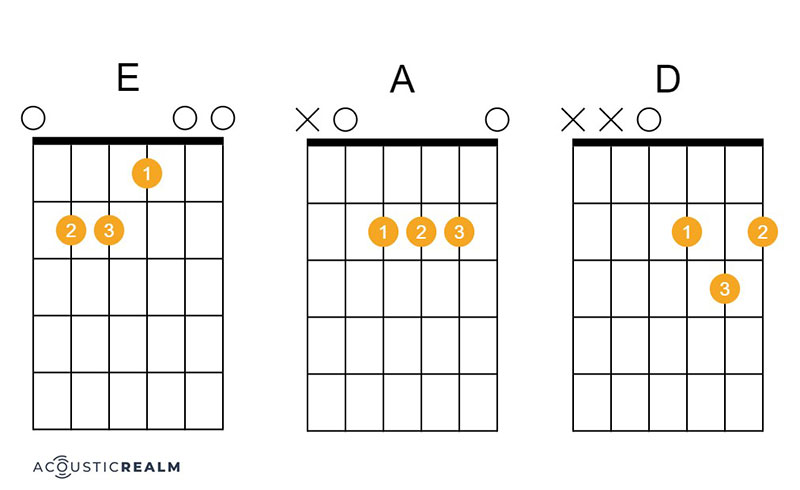 Key: E major
Chords & Lyrics here.
A retro classic, For What It's Worth, is excellent for fusing two playing techniques. The verses use simple single strums. Then, the chorus incorporates a strumming pattern. A great song to become accustomed to flowing between different strumming styles.
12. Louie Louie – The Kingsmen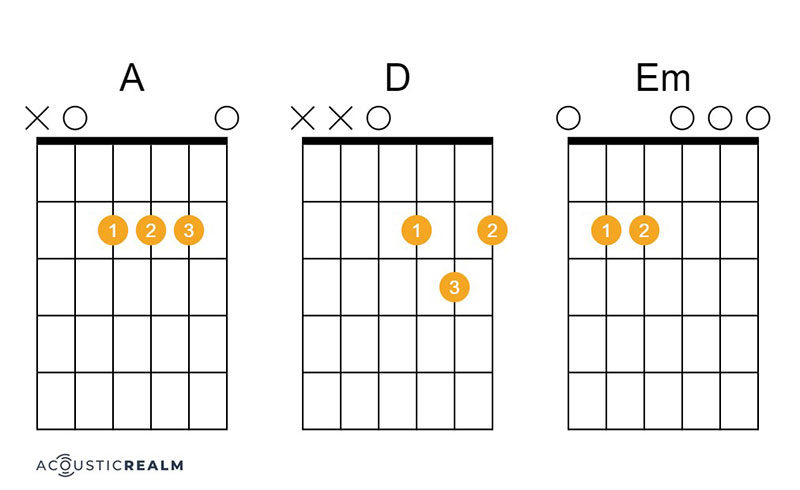 Key: A major
Chords & Lyrics here.
Louie Louie is a fun song to play. It uses guitar chords to form a riff. But without the complicated guitar tab. For each chord, use two downstrokes. Once you've grasped it, the entire song follows the same pattern throughout.
13. Royals – Lorde
Key: D major
Chords & Lyrics here.
We've covered a lot of classics. Now, let's have a look at the more modern Royals by Lorde. Listening to the original, you'll notice there are no guitars with drum machines and synths taking centre stage. But, the chords are the same. So playing this track on the acoustic guitar allows you to add your own stamp. A fantastic and exciting way to expand your creativity.
14. Glory Days – Bruce Springsteen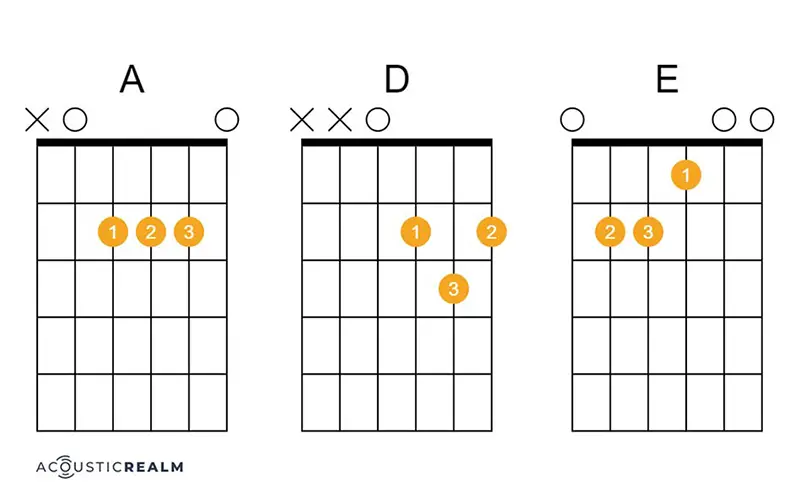 Key: A major
Chords & Lyrics here. 
Bruce 'The Boss' Springsteen delivers a three-chord wonder with Glory Days. Depending on how far progressed you are, you can try to tackle the riff. It's quite simple, and it's the ultimate party trick. If the riff is outside your capabilities now, keep going, you'll get there. Besides, you can still strum the chords and sing along with The Boss.
15. Leaving On A Jet Plane – John Denver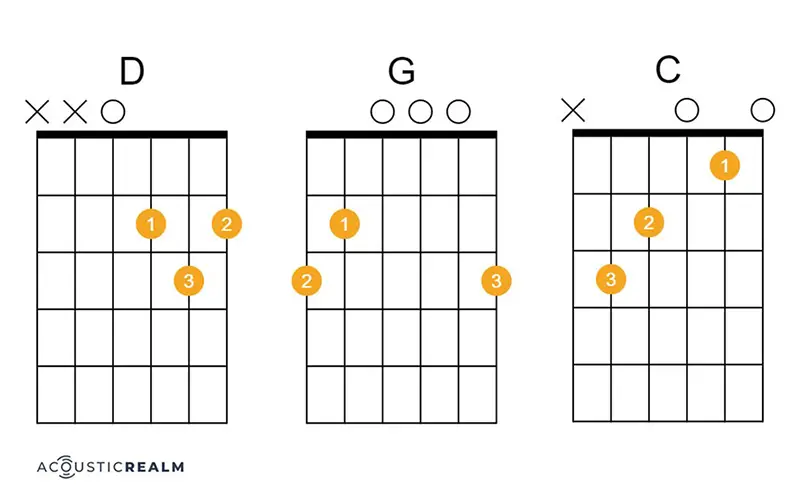 Key: G Major
Chords & Lyrics here.
I find it amazing that this song has three chords. Same strumming pattern, same chord sequences, but still the chorus soars. It goes to show the power of a strong vocal melody. It's a great song to strum. But when you're ready, try using fingerstyle techniques on an acoustic guitar. The slow tempo makes it an excellent song to try out advanced playing styles.
16. Working Class Hero – John Lennon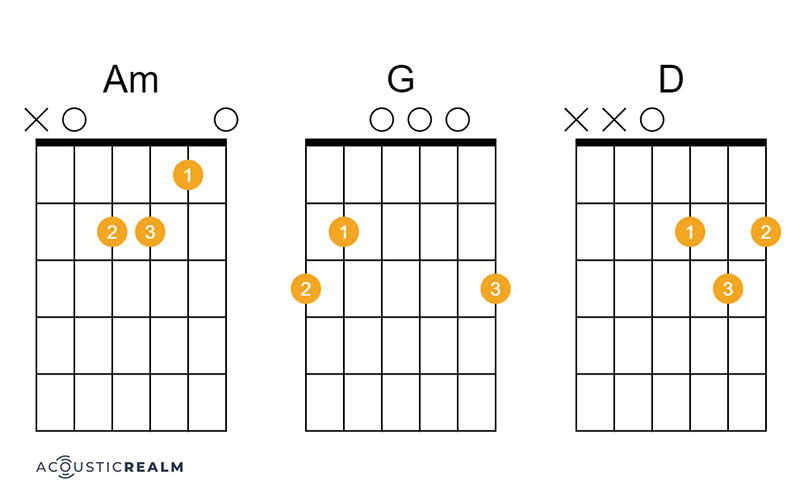 Key: A minor
Chords & Lyrics here.
By now, you'll notice even the big hitters write songs with three chords. Working Class Heroes also allows you to try a simple hammer-on technique. With your chording hand fixed in the Am position, the middle finger hammers on the D string. It's a classic song to expand your skillset.
16 Easy Guitar Songs Using 4 Chords
Now you've conquered the songs with three chords, let's throw another chord into the mix. Here are the easiest songs using four chords.
1. Sweet Home Alabama – Lynyrd Skynyrd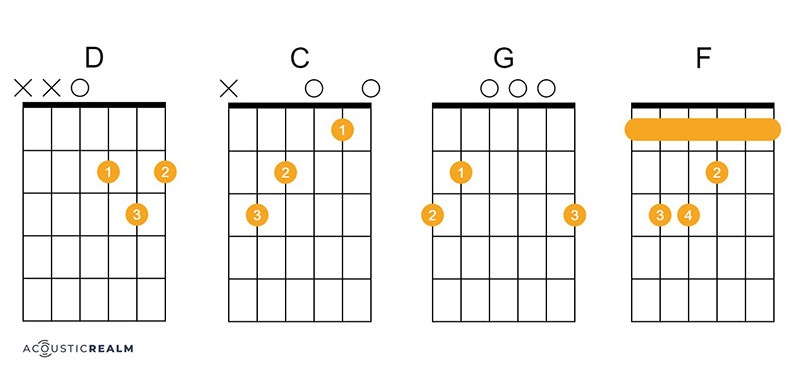 Key: D Major
Chords & Lyrics here.
Let's start with a simple song. Lynyrd Skynyrd takes three of the most common chords and makes them their own. It's southern rock at its finest. And, the chords remain the same through verse and chorus. There's an F chord, but it's infrequent. While you can get away without the added complication, technically, it makes it a four-chord song.
2. Cruise – Florida Georgia Line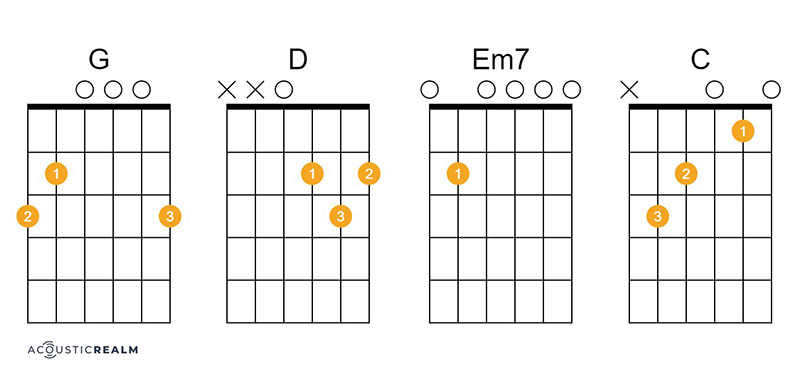 Key: A Major
Chords & Lyrics here.
Wait, we need some modern country on this list. I hope you haven't misplaced your capo because you'll need it for this one. Pop it on the third fret and you'll have a country song capable of filling stadiums. 
3. You Belong With Me – Taylor Swift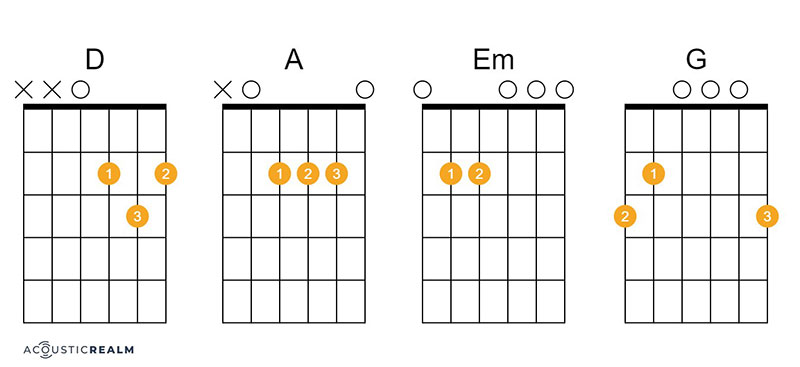 Key: F# major
Chords & Lyrics here.
Staying with the modern country vibe, let's have a go at some classic Tay Tay from her country years. The Key of F# will have you worried. But fear not, this is just the capo changing the key. With the capo placed on the fourth fret, this becomes an easy song to play using basic chords. The video tutorial above gives you simple strumming patterns advice.
4. Knockin' On Heavens Door – Bob Dylan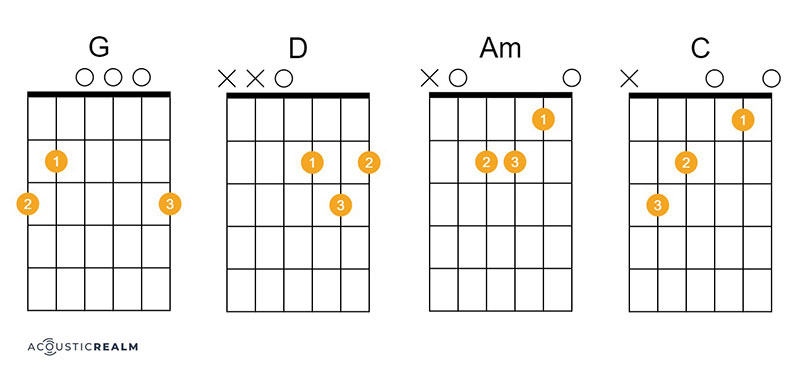 Key: G major
Chords & Lyrics here.
Knockin' On Heaven's Door is one of the easier in this category. The two major chords, G and D, remain the same throughout, with only the Am and C interchanging. Goes to show, even the best songwriters of all time aren't afraid to create easy songs. Whether you sing along like Dylan or Axle Rose, I'll leave that up to you.
5. Wagon Wheel – Old Crow Medicine Show
Key: A major
Chords & Lyrics here.
Talking of Dylan. Did you know he wrote the hit Wagon Wheel? Both Old Crow Medicine Show and Darius Rucker covered it with significant success. For the Old Crow Medicine Show version, play four simple chords with a capo on the second fret.  
6. Wonderful Tonight – Eric Clapton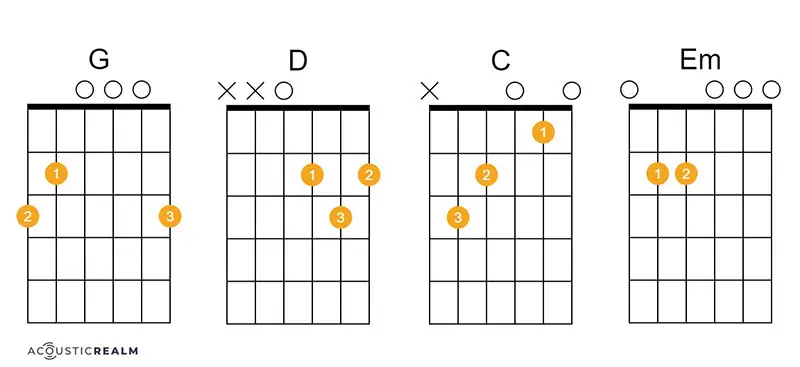 Key: G major
Chords & Lyrics here.
As guitarist in Cream, we know Eric Clapton for his complicated blues riffs. Before you carry on scrolling at the thought of lavish solos. Even Clapton has written a few easy songs. One of which is Wonderful Tonight. If you're frustrated about not being able to riff with the best, remember even the best guitar players go back to basics now and again.
7. Blinding Lights – The Weeknd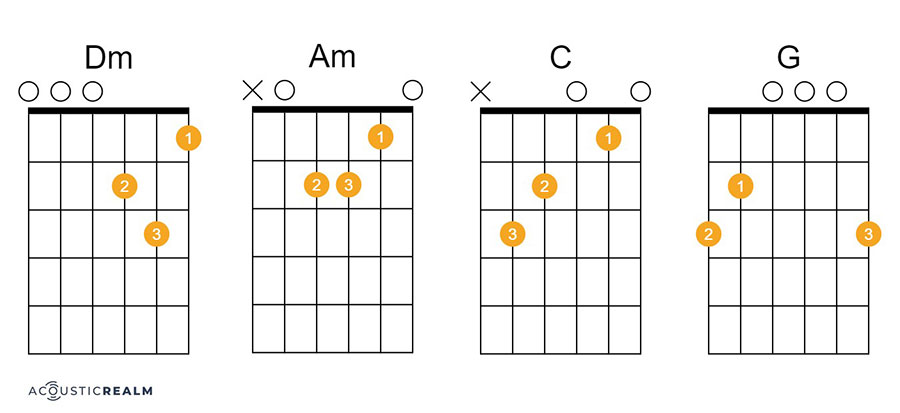 Key: F minor
Chords & Lyrics here.
The chords to Blinding Lights are recognizable even on an acoustic guitar. With a capo on the third fret, you can make it an easy song to play. Using a D minor, it's a chord yet to appear on the list. So it's an excellent song to expand your skills and change chords with a shape you're less comfortable with.
8. Learning To Fly – Tom Petty
Key: C major
Chords & Lyrics here.
Four chords repeated throughout, with no changes to worry about. It's a dream for any beginner. The only stumbling block is the f chord which is a barre chord. But you can substitute this for a Fmaj7 open chord to make it easier. Once you lock into the strumming pattern, you can lose yourself in this track. 
9. Good Riddance Time Of Your Life – Greenday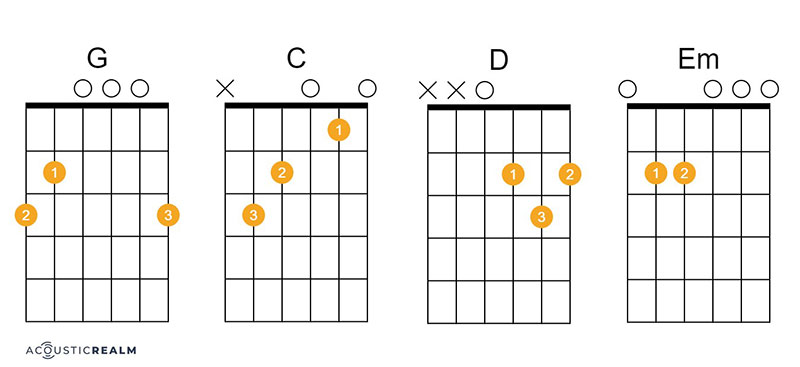 Key: G major
Chords & Lyrics here.
When at a party and the guitar comes out, give this song a strum. You'll have everyone singing along. First, let's give you some pointers. Although four chords it's the strumming pattern that gives Time of Your Life its identity. The key is to emphasize the high strings on the upstroke. Also, using a Cadd9 instead of C major allows you to keep your ring fingers fixed for the first two chords in the sequence.
10. Brown Eyed Girl – Van Morrison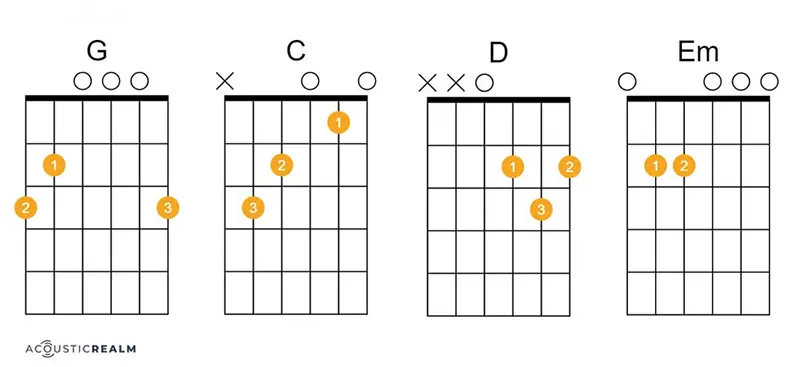 Key: G Major
Chords & Lyrics here.
With an optional D7, Brown Eyed Girl could be in the four or five chord category. But let's look at the easy version. Down the line, add the D7 for full effect. The crux of this song is chords you'll be familiar with. Happy, uptempo and with a simple strumming pattern, it's a foot tapper. 
11. Folsom Prison Blue – Johnny Cash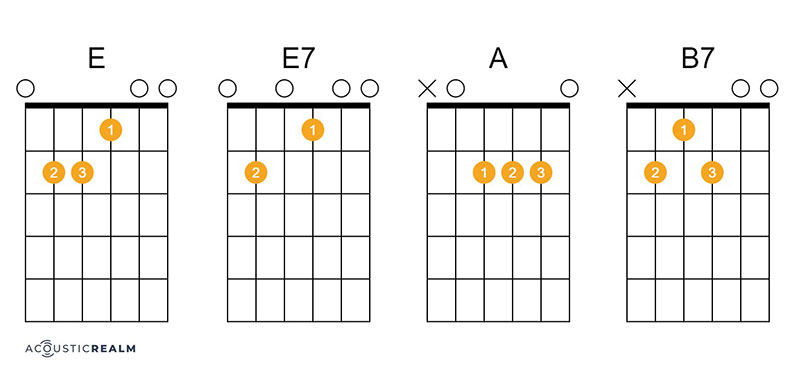 Key: E major
Chords & Lyrics here.
The Man in Black is an icon and Folsom Prison Blues is an easy song to celebrate his genius. With a classic country rhythm pattern, you can use this in many old-school country songs. While the chords are easy, it's high-tempo, so the challenge is to keep up.
12. Ho Hey – The Lumineers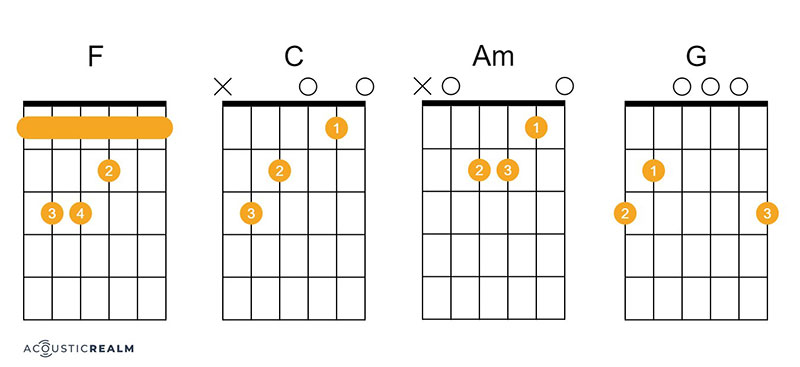 Key: C major
Chords & Lyrics here.
With Ho Hey, The Lumineers sparked the folk revival. Although four chords, the chord change to the F chord is quick. So, Ho Hey will help tighten up your chord changes and get you out of basic chord progressions.
13. Wanted Dead or Alive – Bon Jovi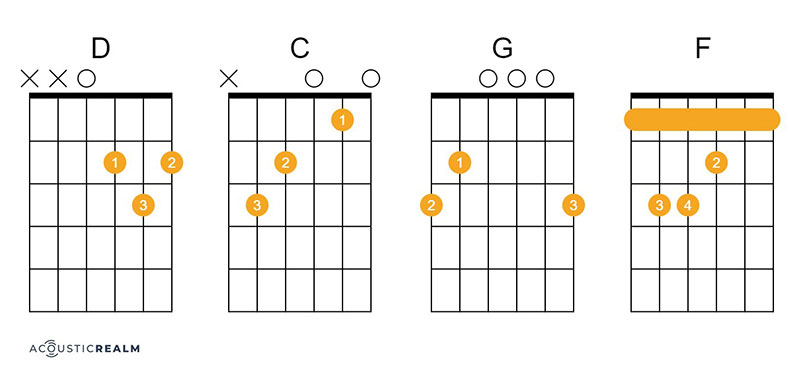 Key: D major
Chords & Lyrics here.
Now, I don't expect you to master the intro. But you can try joining at the verse, that's where things get easier. If you're yet to introduce barre chords, try adding the F into the sequence.
14. Wild Thing – The Troggs
Key: A major
Chords & Lyrics here.
Looking for a track to plug your electric guitar and play loud? Wild Thing is a track you can attack. It's easy with the crux of the track using three chords. The fourth chord is sparse and The Troggs only use it as an accent. Although simple, it's a prime candidate to try transitioning between barre chords. 
15. Perfect – Ed Sheeran
Key: Ab major
Chords & Lyrics here.
One for the lovers wanting to serenade their other half. Not only will you woo your date, but Perfect also introduces some advanced strumming techniques. This track uses a different time signature. While there's speculation what signature, it's in 12/8 timing. So, when strumming, you'll use triplets which apply three strums between the beats. Then, the chorus incorporates a syncopated rhythm. Overloaded brain? It's not as complicated as it sounds, the above tutorial is excellent for playing along too.
Have You Ever Seen The Rain – Creedence Clearwater Revival
16. Have You Ever Seen The Rain – Creedence Clearwater Revival
Key: C major
Chords & Lyrics here.
The more accessible version of Have You Ever Seen The Rain comprises four chords. The reason this is further along in the difficulty list is the strumming pattern. Incorporating a percussive hit it's one of the more difficult easy songs. If you're not at this stage, you can play without, but when ready, percussive hits are another string to your bow.
13 Easy Guitar Songs Using 5 Chords
With five chords, these will be the hardest songs to memorize. But with the chord shapes above, tutorials and guitar tabs, you've got this.
1. Hallelujah – Leonard Cohen

Key: C Major
Chords & Lyrics here.
Hallelujah is one of the most covered songs ever. Kudos to the Jeff Buckley version, but no one does it like Cohen. The fifth chord is a B7, which Cohen slips at the back end of the verse. But you could play without. There is no chorus, so you needn't worry about changing patterns or chords. Strap your capo on the fifth fret and appreciate the work of a legend.
2. Wildest Dreams – Taylor Swift
Key: C major
Chords & Lyrics here.
Let's revisit Taylor Swift. Wildest Dreams uses tried and tested chord progressions to great effect. The verse repeats the same three easy chords over.
3. One – U2
Key: A minor
Chords & Lyrics here.
U2's One uses chord variations of common shapes. For example, Dsus2. The Dsus2 chord is easier than D major as you need fewer fingers on the fingerboard. So, with One, you'll get some new chords under your belt whilst learning a great song. 
4. Every Rose Has Its Thorn – Poison

Key: G major
Chords & Lyrics here.
The easy chords to Every Rose Has Its Thorn are nothing new. But learning guitar is about new horizons. This track is in flat tuning. It's the easiest alternate tuning with the strings all in the same pitch but flat.
5. Catch The Wind – Donovan

Key: Eb major
Chords & Lyrics here.
Catch The Wind is full of vibe. With no other instrumentation aside from harmonica, you're the sole focus. Each chord is a measure, so this is one to enjoy and relax.
6. On The Road Again – Willie Nelson
Key: C major
Chords & Lyrics here.
Harlan Howard described country music as "three chords and the truth." In this Willie Nelson classic, it's five chords. While Nelson uses more complex barres, transposed to C, the chords become much easier to pick up. 
7. Viva La Vida – Coldplay

Key: C major
Chords & Lyrics here.
There's a sneaky Bm chord at the back end of the chorus. Other than that, it's all open chords. It's an uplifting number that'll have friends dancing as soon as they hear the first chord.
8. Wonderwall – Oasis

Key: F# minor
Chords & Lyrics here.
As a huge Oasis fan, Wonderwall was one of the first songs I conquered. The trick to this track is keeping the index and ring finger in place throughout the entire song. They press on the third fret of the high e and b strings, adding a harmonic chime. With a capo on the second fret, the chords are recognizable straight away. 
9. I Will Wait – Mumford & Sons
Key: A minor
Chords & Lyrics here.
The strumming pattern to I Will Wait sounds like a train rattling down the track. It's fast-paced, so while you'll have a knowledge of the chords, the task is to match the pattern to the tempo.
10. Runaway Train – Soul Asylum

Key: C Major
Chords & Lyrics here.
The strumming pattern to Runaway Train has a pleasant flow with plenty of upstrokes to crush. There are four open chords and an f major, so it's a laid-back song to learn that'll level up your strumming.
11. Bad Romance – Lady Gaga

Key: F major
Chords & Lyrics here.
Now for a pop banger. You'll enjoy singing the rah-rah-rahs. Best of all, it starts with the chorus chords, so from the off you've got the hardest part sorted and it's all plain sailing from there. 
12. Polly – Nirvana

Key: E minor
Chords & Lyrics here.
When I was starting to play guitar, I did everything possible to avoid Bb. Even looking at a chord chart with Bb stressed me out. I soon learned I had to face it head-on. Polly was a song that allowed me to practise the Bb within a song. There's a little cheat to play Bb as shown in the video tutorial if you find Bb daunting like me.
13. Heart of Gold – Neil Young

Key: E minor
Chords & Lyrics here.
While Heart of Gold uses easy chords, it's the strumming pattern that'll make it tricky. It starts with downstrokes, then the next chord brings upstrokes to the strumming pattern. It's full of texture and once you've got it, you'll be leaving the beginner tag behind in no time.
Tips on Learning New Songs
Learning the guitar isn't easy. It takes hard work and dedication. But there are some tricks I found helpful when starting.
Listening to the track before trying to play it, helps familiarize the task ahead. In the early stages, reducing the tempo to play a song slower will make chord changes easier. But eventually, look to play along with the track.
Also, singing along helps to connect with the music. It doesn't have to be note-perfect, you can even hum.
But above all else, stay focused. Set aside time without distractions each day, even if it's 15 minutes. Remember, it won't happen overnight and patience is key.
Conclusion
I hope you've enjoyed the most popular easy songs for beginners. The easiest songs are at the top and as you scroll down the list, they become more difficult. So why not try to complete the lot?
The term easy guitar songs is relative. If it's the first time you've picked up a guitar, they'll be difficult. But with dedication and patience, you'll get there. Think of these songs as a foundation to build your skills and with some steady practice, you'll have them nailed down in no time.
Drawing on over 15 years of experience in the music industry, Neal's writing specializes in all aspects of music. A self-taught guitarist who's passionate about words, he's at peace when songwriting. He finds comfort recording, traveling, and wearing his favorite leather jacket. Keep up to date on Twitter @TheNealSawyer